Renault denies having financial worries
| | |
| --- | --- |
| By Jonathan Noble and Dieter Rencken | Friday, July 23rd 2010, 18:05 GMT |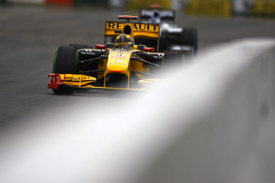 Renault has dismissed any talk that it is facing financial difficulties, despite lodging a request for advance payment of its television rights money.
AUTOSPORT has learned that the Enstone-based team requested approval from rival teams for it to be given an up-front payment of the money that is due to it from Formula One Management - and normally gets paid at the end of a season.
Teams normally only seek such an up-front payment if they are facing budgetary problems, but Renault's boss Eric Boullier insists his outfit is not in such strife.
Instead, he has revealed that the team wanted the money to help it finance extra work on this year's R30, plus early development of its 2011 machine, which has been made possible by new sponsorship deals that the outfit will not get payment for until September.
"We signed recently a new sponsorship agreement, one for about 10 million Euro and another one for three million Euro," Boullier told AUTOSPORT.
"My job is to push and raise the game [of the team] more - and in July we were given the green light to push a bit harder with the R30 development to try and beat Mercedes GP. At the same time I was asking to start the R31 which is the 2011 car development.
"Having new sponsors means the payment is coming in September, but I need cash - I need money up front and I cannot wait until September because I cannot waste two months.
"I asked my shareholders how to find a solution – and I asked if I could do a bridge loan? We discussed this with Gerard [Lopez, team owner] and he had a chat with Bernie Ecclestone, and he suggested why don't you, with the FOM money that is due to you, have an advance payment to make that bridge in cash?"
Teams are only allowed to be given advance payment if unanimous approval is given by rival outfits – something that Renault did not receive.
"I think some teams said no, because they don't want us to start developing our 2011 car, so we will find another solution" continued Boullier.
"We have no money problems. It is just a cash flow issue now, to start the 2011 development with money which is supposed to be paid by our sponsors in September."
He added: "It is our money. That is it – and it is written clearly in the Concorde Agreement that we can do this. We needed to get the approval of everybody because it is obviously a sort of favour... but it is our money and not a loan. And it is only because impatiently I want to press the button for next year."