Webber sure of Red Bull driver parity
| | |
| --- | --- |
| By Dieter Rencken and Jonathan Noble | Friday, July 23rd 2010, 10:33 GMT |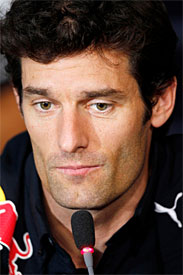 Mark Webber says he would rather turn his back on Formula 1 then ever be forced to play second fiddle to a team-mate.
With Webber sure he is given parity with team-mate Sebastian Vettel, despite the favouritism controversy that erupted at Silverstone over a front wing, the Australian has insisted that part of what he likes so much at Red Bull Racing is that he is given a fair chance.
Speaking exclusively to AUTOSPORT at Hockenheim, Webber played down talk of Red Bull's Austrian management ever being able to influence situations that could hamper him in his fight against Vettel.
When asked if he was worried that decisions could be taken from on high that could ultimately impact his career, Webber said: "It could happen. But, I'm very, very confident that they are not.
"Technically the cars are identical. I think you know me well enough to know that I am not going to be driving around in something that is half a second slower than somebody else every weekend.
"I would not turn up to work for that. That is why I have been massively motivated with this team in the past and I will be in the future, because it is the best team in the pitlane to work for."
Webber is keen to move on from the events of a fortnight ago and reckons Red Bull Racing has learned a lot from its two big controversies this year - the collision in Turkey and the front wing situation at Silverstone.
"I think that this is a team that is still growing," he said. "It is achieving some amazing things for how long we have been together as a group. And all of us are learning along the way.
"There have been some very smooth waters, with winning races and designing sensational racing cars. And there have been some choppy waters here and there, and that is inevitable at this level.
"You can look back with 20/20 vision and say, okay communication here or there, and different things we could have done - I could have done, we could have done, lots of us. But that didn't happen and the most important thing is that you learn from them and go forward."
For the full interview with Mark Webber about his life at Red Bull Racing, click here.