Red Bull told to get act together quick
| | |
| --- | --- |
| By Jonathan Noble | Tuesday, July 13th 2010, 09:39 GMT |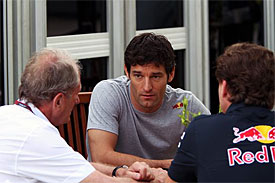 Red Bull Racing needs to act quickly to work out where it is going wrong, rather than keep 'shooting itself in the foot', if the team is to have a chance of winning the world championship this year.
That is the view of Mercedes GP CEO Nick Fry, who reckons that the favouritism row that erupted at last weekend's British Grand Prix over a wing swap is perfect evidence of how Red Bull Racing continues to be its own worst enemy.
Despite having had the quickest car this season, reliability problems, a collision between its drivers in Turkey and the row over swapping a front wing at Silverstone has left the door open for rivals McLaren to lead both championships.
And Fry, who has first hand experience of the trials that come from fighting for a title after helping guide Brawn GP to the crown last year, has told AUTOSPORT he thinks the management of Red Bull Racing needs to get a grip of the situation quickly.
"I do sympathise on the one hand with them," said Fry, who faced similar favouritism tensions last year when Rubens Barrichello hit out at the team over some race strategies.
"But one of the main points is to stop shooting yourself in the foot. Just looking at it from the outside, there seems to be a case of Red Bull causing more problems than they need to.
"They have clearly got the fastest car by quite a margin, and they should be way ahead of the rest of us, and they are not. So they do need to look at themselves and try and work out what they are doing wrong.
"They are beating themselves - which is very satisfying for the rest of us but it should not be what they are up to."
Fry thinks the time has come for Red Bull to get all it management levels together to go through where it has gone wrong, and make sure it can steer its path to title glory.
"I don't know what is going on inside the team, but clearly they need a good discussion between drivers and the three levels of team management - because there is the technical side, the team management and the Red Bull side. They have got to work out how to rectify their issues if they are going to beat McLaren.
"McLaren are clearly the big threat. They are immensely well organised, they are a brilliant team and they have won lots of championships - so beating them is a very tall order. Red Bull have to get their act together quick, because they should be much further ahead than they are."
Fry also believes Red Bull Racing chiefs need to get better control over their drivers - and stop them stirring up the controversies in the first place.
"I think with any management issue, and that is really what it is, you have to nip these things in the bud," he said. "If it is allowed to fester then it can quickly get out of hand.
"When we have had issues in the past, we've had a headmaster's study discussion very quickly and we've made very clear our view on things. And, at the end of the day, we run the team not the drivers. They are an unbelievably important part of the team but they are not the team: and that needs to be very clear. As soon as the lunatics start running the asylum, then you have got big problems."
Fry also reckoned that behaviour like Webber's, who said after the race that he would never have re-signed for Red Bull Racing is he knew he would be treated how he was at Silverstone, needed clamping down on.
"I would consider that something that would warrant a severe discussion behind closed doors," he said. "That is the type of discussion that should be had behind closed doors; it is not a public discussion.
"I think Red Bull have got two brilliant drivers and are both great guys as individuals. They are both very competitive and they have the best car, so they should be able to win."