Kovalainen: Webber right to feel 'hurt'
| | |
| --- | --- |
| By Jonathan Noble and Simon Strang | Sunday, July 11th 2010, 09:36 GMT |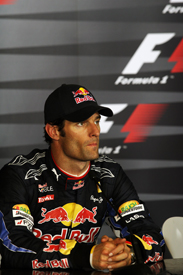 Heikki Kovalainen believes that Mark Webber has every reason to feel 'hurt' by the way Red Bull Racing opted to swap front wings on its cars at the British Grand Prix.
A new front wing design was taken off Webber's RB6 before qualifying and handed to team-mate Sebastian Vettel - prompting a fresh favouritism controversy at the Red Bull outfit.
And although Red Bull chiefs are adamant they did the right thing because Vettel is ahead in the championship, Kovalainen - who has close experience of the difficulties team face with equality through his spell at McLaren – reckons that Webber's faith in his team could be dented by what has happened.
"It is very important to have the trust in the team and, if you have to do something like [what Red Bull Racing did], if you have to give the new part to another driver, then there has got to be a good explanation and you have to be able to sort it out with the team," Kovalainen told AUTOSPORT.
"If it surprises the driver, if he doesn't know until the race weekend for example – 'by the way your car is not up to spec' - then that can hurt a lot and it is really difficult to regain that confidence again."
Kovalainen had one experience at McLaren last year when only one new upgrade package was available – and it was handed to his team-mate Lewis Hamilton.
But he says the fact the team was so transparent about the matter meant it was not such a problem.
"During my time at McLaren there was a lot of talk about things, and there were a couple of occasions when Lewis had a new part in his car, but together with the team this was actually discussed beforehand and they were clear about it," he said.
"Especially last year, which was a difficult year for McLaren and they really needed to push. Lewis was in a better position in the championship so... If you explain it to the driver and make them both understand the situation then it's okay."
He added: "The key is to keep the trust between the drivers, and then in the future if there is a situation where this has to happen again and the decision that has to be made about something which is not 100 per cent equal, then there has got to be a balance.
"There has got to be a payback. This is crucial: this is how it needs to work. The driver has to be flexible sometimes if it is to the team's benefit."
Kovalainen actually reckons that in a situation where drivers are fighting for the championship, and only one part is available, then it may even be better for team harmony if neither contender gets the better part.
"The easiest thing is, if you don't have enough parts for both drivers, then not to give it to anyone," he said. "It is a tricky one. But the experience from McLaren, when we had to do those kinds of things, they were discussed beforehand and nothing came to me as a surprise."
Veteran Pedro de la Rosa could not see why there was such a fuss about the situation though – especially because Vettel is currently best placed in the title chase.
"When there are only a few parts this is something that is normal and the team must give it to the guy that is in front in the world championship," he said.
"In my case, [Kamui] Kobayashi is in front of me and I have zero points, so if there is any new part and it has to go to someone, then it always has to go to the guy that is in front in the championship, no matter what. This is my view. It should not change.
"For me the most important thing is that the people [in the team] trust you. They do not question your job and whether you could go quicker or slower.
"If the people in your team are behind you it doesn't really matter, if for one qualifying session or for one race the other guy has the upgrade and you don't. It's just part of the job."