Ecclestone: Schumacher still strong
| | |
| --- | --- |
| By Jonathan Noble and Michele Lostia | Friday, July 9th 2010, 09:47 GMT |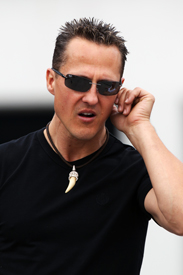 Michael Schumacher should not shoulder the blame for his disappointing return to Formula 1 - reckons the sport's commercial boss Bernie Ecclestone.
Schumacher has failed to deliver the kind of results that he and his Mercedes GP team had hoped for when he decided to come out of retirement.
But although Schumacher has openly admitted he faced difficulties getting back up to speed, Ecclestone thinks that his form has ultimately been hit by the problems Mercedes GP has faced.
"He has returned in a situation more complex than he could imagine," Ecclestone said in an interview with Gazzetta dello Sport.
"But it's not him, it's the car. If Michael was driving a Red Bull, he immediately would become the old Michael again."
Ecclestone added that he thinks it difficult to predict a winner for this weekend's British GP.
"It's an extremely open race in a very uncertain championship," he said. "My pick was [Sebastian] Vettel, but now the contenders are many. [Mark] Webber has improved. [Fernando] Alonso is perhaps the best but he needs a competitive Ferrari.
"Then there's [Lewis] Hamilton and also [Jenson] Button, another surprise. It will be an extremely open British GP."