Q & A with McLaren's Jonathan Neale
| | |
| --- | --- |
| By Matt Beer | Wednesday, July 7th 2010, 12:10 GMT |
In the latest of McLaren's teleconference sessions with leading team figures, managing director Jonathan Neale talked to AUTOSPORT and other media about the squad's preparations for Silverstone.
He explained why this weekend's major upgrade package was still not certain to be on the car for race day, and discussed the mood as McLaren prepares for its home grand prix with its two British world champion drivers fighting each other and a horde of rivals for the title.
Q. How important is it to McLaren to do well at Silverstone?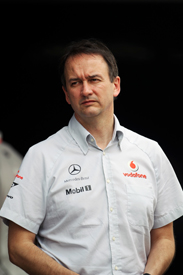 Jonathan Neale: I think it's important to the team to do well at all races. Expectations are obviously higher at the moment, certainly in the media, and we can feel that pressure - both the drivers and the team feel the weight of expectation.
Q. Does having an upgrade for Silverstone put more pressure on McLaren to perform?
JN: Obviously a lot of teams upgraded their cars quite heavily last weekend [in Valencia]. We did try to pull forward a variety of packages that we had planned through to Germany. So at the moment I've got a range of things that I'd like to get to the circuit on Friday that we haven't built yet. So we're in that sort of fire-fight between now and Friday - just how much can we get there?
But we're looking forward to it. It's going to be a close race, that we can confidently predict, and wide open again. Clearly Red Bull have done a good job at making a quick car so far this season, but Ferrari are also hard on our heels. I think the fans have a lot to look forward to, and it should be a great weekend.
Q. Following Valencia, do you think the safety car rules should be changed? Should the pits be closed under the safety car?
JN: That's really a difficult question to answer sensibly. It's a good one for over a pint in a bar.
I think we should be wary of knee-jerking in the reactions. If history's taught us anything in rule-making in Formula 1, it's that lurching from one thing to another doesn't pay off. The rules are there.
I think it was a close call on a number of occasions. Clearly we hesitated and got some things wrong, and had to take a penalty for it. Others were caught out by the safety car.
But I think that degree of unpredictability - although sometimes it causes us to smart depending on whether you just luck in or luck out - some of that factor I think is good for Formula 1 and good for the sport. Whilst I don't think that Formula 1 should ever become a lottery, I do think that weather and the unpredictability of what happens with the safety car and can you call your driver in at the last minute or not...
Q. But isn't it a lottery in a sense anyway?
JN: To a degree that's true, but it's a random factor. You can't predict accidents, you can't predict what's going to happen when the safety car comes out and you have to prepare yourself.
I think that the teams with their strategists have to, as we do, look at various moments in the race and you have to them arm your driver with the knowledge that they may now be in the window and should they see a safety car board - because they will see it before we see it on the timing screen - then they dive into the pitlane.
I would be wary of knee-jerking. There wasn't a lot wrong with last weekend [in Valencia] and I don't think we should be doing instant rule-making. But the Sporting Working Group are taking a look at what happened last weekend, with the FIA, and they'll have some kind of measures in response.
Q. How did the test of the upgrades go in Spain last weekend, and are you confident the package will be on the car for the race as well as practice at Silverstone?
JN: Like all tests, I would describe it as a curate's egg. Some bits went very well, some bits gave us some surprises. Of course it's straightline testing so it's not like a full test in the conventional sense as we used to get mid-season and do during the winter. Because of the limited time and limited mileage that we had, we weren't able to do a full set of old car/new car running, so we just gathered as much data as we could, went through all of the race prove-outs, so we know if the car will run sensibly behind the safety car, can we do an aborted grid start, will it look after itself in pitstops? So we mainly focused on the durability aspect as well as straightline performance measuring.
I'm confident that we've got a reasonable performance step. Do I think we've got everything that we expected? Hard to tell at this stage, I'll wait to see what the race drivers think. So Friday will be a testing day for us.
Q. So there's the possibility that you could run the package on Friday but maybe not have it for the race if things don't work out?
JN: Yeah and I think that's something that all the teams are increasingly doing. You've seen a number of teams with complex projects, like blown diffusers or the F-duct for example, which are not just paper exercises - there's a lot of installation issues that you have to simultaneously work. That requires track time to get right, and I heard one of my colleagues in another team describe the F-duct as the 'F-ing duct' because it does take time to get these things right.
We are ambitious, we'd like to take it this weekend and if the drivers think it's good it will stay on and we'll run it. If not, we'll continue to develop it.
Q. Having been beaten by Red Bull in Valencia, which was supposed to be a 'McLaren track', how important is it that this upgrade works at Silverstone? Is it a 'do or die' effort?
JN: Well it's not a do or die effort. I think it was clear from the second or third race that this was going to be a very close championship, which has been good for the sport. As we've seen during the last six or seven races, as well as being a reliability test, it's going to be a rate of development test for the organisations that sit behind the drivers.
Red Bull, ourselves, Ferrari, Mercedes, Renault at the last race, Williams all brought a significant upgrade and nobody at this stage is backing out of what will be a long and exciting race.
So I think it's certainly not a do or die race for us. It's the next milestone. It's important to us because it's the British Grand Prix and we'd like to do well there, but I'm as interested in the upgrade packages for Germany and Japan, which are all now in the concept stages.
Q. As those updates as significant as the one for Silverstone?
JN: Yeah, I think they're of a reasonable size.
Q. Lewis Hamilton said earlier this week that he feels he's driving better than ever this season. How do you think his performances have improved, particularly comparing how he's driving now to his championship year in 2008?
JN: I think that as Lewis gets more experience and more miles and more races under his belt, his confidence is growing. He can be an incredibly aggressive and exciting driver, as we've seen with some of the overtaking manoeuvres that he's pushed this year, and I think that makes Formula 1 exciting. For those who would detract and say there's not enough overtaking, I would say go back and look at what Lewis has achieved. I think it's been phenomenal.
Despite that raw talent and car control, I think he's being more measured about what he wants with the car and working with the team and the development process. Lewis and Jenson [Button] are now heavily integrated into the development process, they're not just weekend warriors for us, they're an important part of the development team.
I think Lewis, now he's in his mid-20s, is now more confident in his own judgement. Being pushed by Jenson as he has been this year has also brought more out of him. It's good when you've got drivers when you've got very competitive. There have been enough times this year when I've looked up at the timing screen and seen the two markers on our drivers not just close, but swap round occasionally. I think that pushes both drivers and the team to get the best out of the package.
What I do like about Lewis is that when he gets out of the car, you know that he's left nothing on the circuit and he's wrung its neck. I think that puts a huge motivational factor inside the team, when you know your driver's out there really pushing 100 per cent.
Q. Christian Horner says rivals have over-estimated how much difference the blown diffuser makes. What do you think about that, and what your upgrade will offer for Silverstone?
JN: I honestly believe that Christian might be right. In Formula 1 it's rare that there are golden bullets that suddenly transform your car from uncompetitive to competitive. We, more than most, last year found that to be the case. It was just straightforward hard work and effort.
I don't think that putting a blown diffuser on the car is going to transform, not quite perhaps in the way that the shadow diffusers were able to. But it's early days in the development stages of them, and I think most teams - including Red Bull - at the last race made quite an impressive change to their diffuser, which gave them a good step. Some of the other teams like Renault did a particularly good job with their diffuser.
So it's early days in development, but I would tend to agree with Christian that it's not a case of bolt on your blown diffuser and then blow everybody into the weeds. That's not going to happen. It's one of the things that we are working with at the moment, as part of a package of changes that we are bringing to both the next race and subsequent races.
In terms of predicting what it will do, I'm not going to be a hostage to fortune and predict a number of wins. Let's see what the race drivers think of it on Friday. We just haven't got any what I would call real circuit running on it at the moment, so I'm going to reserve judgement.
Q. Do you think the consistent upgrades will get you level with Red Bull on one-lap pace?
JN: That's our target, but I can't be confident, because I'm pretty sure that Red Bull won't be standing still waiting for us to catch up. I don't mean that to sound trite, but they're smart people and they're working hard. We have managed to close the gap to them - both in qualifying and I think we've got a competitive racing car - but we don't yet have the quickest car on the grid. I think that Red Bull may well have that, and both Ferrari, ourselves and perhaps Mercedes are still pushing to get ahead of them. It's just much better when you're on the first two rows.
Q. Now that Fernando Alonso has dropped off the pace, do you feel it's now a straight fight between you and Red Bull?
JN: No I don't, and I don't think that Fernando's dropped off the pace. Fernando's a fierce competitor and yeah, he's smarting a bit from what happened [in Valencia]. But I have every reason to believe that Ferrari will also bring a package to Silverstone and he'll be there or thereabouts. I think it's way too early to write off Fernando.