McLaren unsure how upgrade will fare
| | |
| --- | --- |
| By Matt Beer | Wednesday, July 7th 2010, 11:25 GMT |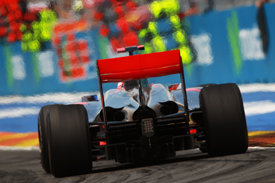 McLaren managing director Jonathan Neale says the team cannot be certain if its upgrade package will deliver the desired results at Silverstone this weekend, and that practice performance will decide whether the blown diffuser is kept on for the race.
The team carried out a straightline test in Spain with the new package last weekend, but Neale admitted that the outcome was inconclusive and that the focus had been on reliability.
"Like all tests, I would describe it as a curate's egg," he said during this week's Vodafone McLaren Mercedes phone-in. "Some bits went very well, some bits gave us some surprises.
"Of course it's straightline testing so it's not like a full test in the conventional sense as we used to get mid-season and do during the winter.
"Because of the limited time and limited mileage that we had, we weren't able to do a full set of old car/new car running, so we just gathered as much data as we could, went through all of the race prove-outs, so we know if the car will run sensibly behind the safety car, can we do an aborted grid start, will it look after itself in pitstops? So we mainly focused on the durability aspect as well as straightline performance measuring.
"I'm confident that we've got a reasonable performance step. Do I think we've got everything that we expected? Hard to tell at this stage, I'll wait to see what the race drivers think. So Friday will be a testing day for us."
When asked by AUTOSPORT whether removing the package after Friday practice at Silverstone was an option, Neale replied: "Yeah and I think that's something that all the teams are increasingly doing.
"You've seen a number of teams with complex projects, like blown diffusers or the F-duct for example, which are not just paper exercises - there's a lot of installation issues that you have to simultaneously work. That requires track time to get right, and I heard one of my colleagues in another team describe the F-duct as the 'F-ing duct' because it does take time to get these things right.
"We are ambitious, we'd like to take it this weekend and if the drivers think it's good it will stay on and we'll run it. If not, we'll continue to develop it."
Neale said that McLaren had accelerated its development plans in response to the level of upgrades other teams had recently introduced - but that change of plan meant the team was in a race against time to prepare for Silverstone.
"We did try to pull forward a variety of packages that we had planned through to Germany," he confirmed. "So at the moment I've got a range of things that I'd like to get to the circuit on Friday that we haven't built yet. So we're in that sort of fire-fight between now and Friday - just how much can we get there?"
He also played down the significance of the blown diffuser - the most notable element of the Silverstone upgrade - agreeing with recent suggestions from Red Bull's Christian Horner that the device's contribution to performance had been over-estimated.
"In Formula 1 it's rare that there are golden bullets that suddenly transform your car from uncompetitive to competitive. We, more than most, last year found that to be the case. It was just straightforward hard work and effort," said Neale.
"It's early days in development, but I would tend to agree with Christian that it's not a case of bolt on your blown diffuser and then blow everybody into the weeds. That's not going to happen. It's one of the things that we are working with at the moment, as part of a package of changes that we are bringing to both the next race and subsequent races.
"In terms of predicting what it will do, I'm not going to be a hostage to fortune and predict a number of wins. Let's see what the race drivers think of it on Friday. We just haven't got any what I would call real circuit running on it at the moment, so I'm going to reserve judgement."