Webber not writing off Ferrari yet
| | |
| --- | --- |
| By Jonathan Noble | Monday, July 5th 2010, 11:38 GMT |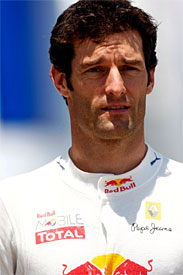 Mark Webber thinks it too early to write-off Ferrari's world championship chances this year - even though the Maranello outfit has not won since the season opener in Bahrain.
Victories have been evenly shared between Red Bull Racing and McLaren for much of the campaign, and many observers believe the title fight is boiling down to a straight head-to-head contest between those two outfits.
And although a major upgrade Ferrari introduced in Valencia did not deliver the kind of step forward the team had hoped for, Webber thinks the team is still too strong to be ruled out yet.
"Ferrari, you can still never discount them," Webber said in an interview with the BBC. "They are a very, very strong team. Fernando is a very solid driver so those guys will be there week in, week out as well.
"It is a sensational battle. I am enjoying it, and there are many drivers that can win races. A lot of us are on a couple of victories each, and it would be nice to be the first driver to get on to three and four – and get a bit of momentum. It is a good fight."
Webber sees no reason to panic about his own title prospects – despite two difficult outings in Canada and Valencia.
"Yeah, we are still pushing very hard to get every single point we can at every race," he explained. "I had a rough weekend in Valencia, but the form has been good. Okay Canada we finished fifth but it was a very interesting GP for everyone.
"Turkey was another podium, so not a bad weekend at all. The signs are good to continue having good weekends and keep fighting."
And talking about his relationship with team-mate Sebastian Vettel, which has been under scrutiny since they crashed in Turkey, Webber said: "Seb and I had a very competitive relationship last year and nothing has changed this year.
"There is clear respect both ways, and we are driving the team forwards. Some weekends he is struggling with me, and some I am struggling with him – which is great for the team.
"We are not putting sugar in each other's teas but that is to be expected. There is quite a bit at stake and we are pushing each other on to be successful in our own right.
"But if he is an ocean and drowning I will save him – it is not that I hate him. It is a competitive rivalry."