| | |
| --- | --- |
| Stoner accuses Capirossi of blocking | |
| | |
| --- | --- |
| By David Emmett and Matt Beer | Friday, July 2nd 2010, 18:10 GMT |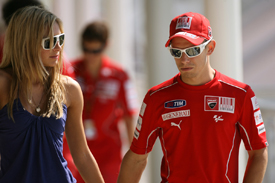 Casey Stoner says he will talk to his former team-mate Loris Capirossi tonight after being blocked by the Suzuki man in practice at Catalunya today.
Ducati rider Stoner, who was paired with Capirossi in the Italian squad three years ago, said he had been frustrated by the veteran's track manners at Assen as well.
"Loris did it to me twice at Assen, same thing," Stoner told reporters. "He goes round the corner, sees you behind, puts the hand up like 'okay, I know you're there' and stays on the line. I mean, get out of the way...
"He did the same thing to Alvaro Bautista before Bautista's crash. Bautista was coming through Turn 3, you see Loris's hand up, but he's on the line, exactly where we need to go.
"I haven't had a problem with Loris before but it's starting now, so I'm going to have a talk to him tonight in the Safety Commission and see what's going on.
"I can understand if he's not looking, being ignorant and not knowing we're there, but he looks behind, knows we're there, and doesn't move.
"I'm coming out of the corner flat - if you see a rider who knows you're there, normally they get out of the way so you can keep going with your lap. But when he stays on the line and all of a sudden you've got to try and miss him, it becomes a little dangerous."
Stoner suggested that the incidents with Capirossi were a consequence of his motivation fading as Suzuki struggled for pace this year.
"I think maybe he's lost a little bit of motivation with the bike he's on," Stoner said. "Things wear you down like that. Being in racing as long as he has, and riding the amount of piles of cr*p to the limit that he has, maybe there comes a time when you've just had enough.
"Personally, [I think] the Suzuki can do a little better than what it's doing, but unless you've got a lot of motivation to just keep going and keep pushing and keep trying, then it's hard work each day to keep getting out of bed and feeling hungry for it. You can understand that situation."