Chaotic practice day at Daytona
| | |
| --- | --- |
| By Diego Mejia | Friday, July 2nd 2010, 08:01 GMT |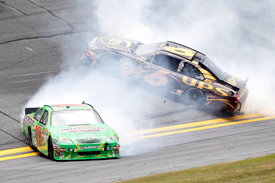 A number of incidents during practice for Saturday's NASCAR Sprint Cup Series race at Daytona have forced several drivers to use back up cars, as many struggled for grip in hot conditions with a new technical package.
High track temperatures coupled with the biggest restrictor plate ever used at Daytona, which has given engines a 100hp boost relative to a year ago, thus boosting speeds as well, have made cars tougher to handle while running at average speeds close to 200 mph on the bumpy surface, which is set to be repaved after this race.
During the first practice session on Thursday three drivers were forced to unload their back-up cars as Roush Fenway's David Ragan got loose and was nudged by Joe Gibbs Racing's Kyle Busch, spinning him around. Kasey Kahne, who was trying to take evasive action, ended up involved and with enough damage to the front of his car to also be forced to go to his back-up.
Another incident took place later in the second session when Joey Logano was slowing down to go to the pits and got hit from behind by Carl Edwards. Neither had too much damage, and they will remain in their primary machines for today's qualifying session.
Then the biggest incident of the day unfolded later in the final session when Kyle Busch clipped the left rear of his Joe Gibbs Racing team-mate Danny Hamlin. The impact sent him spinning, getting Red Bull's Reed Sorenson involved as well, while Stewart Haas' Tony Stewart, Richard Petty's Paul Menard and Robert Richardson were part of the wreckage too.
Hamlin's car received massive damage, forcing him to his back-up. Stewart also had enough damage to be forced to ditch his primary car.
"It is really, really slick out there with these cars," said Busch, who was involved in two of the day's incidents. "Goodyear has brought a nice tyre out here, it's just you can't get hold of it.
"It will be nice to repave it. I like the bumps. I like the character it gives this place, but trying to race around here and then trying to do it at 200mph - it's hard enough as it is."
Hamlin believes the new package, which besides the new restrictor includes the implementation of the spoiler for the first time at Daytona, has changed the way the cars handle, making it harder to bump-draft. He expects the race to have a spread out field for most of the distance, following the incidents during practice.
"[With] he bigger restrictor plate and the spoiler it just feels like our cars are constantly on edge," said Hamlin. "You can't even really push draft like you used to at superspeedway racing. So, I think it's just two cars getting close to each other and that's what happens.
"[The track] will get a little bit better by tomorrow, but still you're going to see, I think, a strung out race after about 10 to 15 laps. You'll have incidents like we just had on restarts, but I think once it all gets settled out you'll see them spread out."
Stewart lamented being forced to his back-up car and admitted he was struggling for balance before the incident happened. He will qualify and race with what was initially his primary car for the Daytona 500, which was then replaced for the back-up following an incident in practice before the season-opener.
"We still needed to do some work, that's why we were still out there, but it kind of cost us," said Stewart. "It's just part of it - you can't get away from it sometimes.
"It's been kind of difficult to get grip here for some reason. We started out really tight and then just got loose and now we can't get tight enough. We were just fighting the balance."
Dale Earnhardt Jr was among the other drivers having contact in practice, scraping the wall but not hard enough to be forced to swap cars.