Ferrari boss hits out at Valencia events
| | |
| --- | --- |
| By Pablo Elizalde | Monday, June 28th 2010, 13:01 GMT |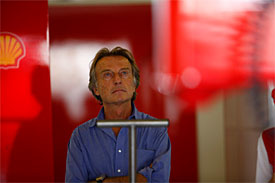 Ferrari president Luca di Montezemolo says the European Grand Prix set a dangerous precedent that could damage the credibility of Formula 1.
The Italian squad has been fuming since McLaren's Lewis Hamilton finished in second position in the Valencia race despite being given a drive-through penalty.
Ferrari believes the penalty came too late and as a result the Briton was able to keep his position despite breaking the rules by having overtaken the safety car early in the race.
Fernando Alonso, running right behind Hamilton when the safety car was deployed, stayed behind it and wound up finishing in ninth as a consequence.
Another nine drivers received five-second penalties after the race for having breaking the safety car delta time rules.
Di Montezemolo said on Monday that the situation was unacceptable and that it cast a shadow over the credibility of the sport.
"The result of yesterday's race was misrepresentative," di Montezemolo said on Ferrari's website. "Ferrari, which showed itself to be competitive in the European Grand Prix, paid a price that was too high for respecting the rules.
"Meanwhile those who didn't follow the rules were penalised by the race officials in a way that was less severe than the damage suffered by those who did respect them.
"That is a very serious and unacceptable event that creates dangerous precedents, throwing a shadow over the credibility of Formula 1.
"We are sure that the FIA will fully analyse what happened, taking the consequent necessary decisions. Ferrari will watch this with interest."