Bridgestone: No Canada repeat in Spain
| | |
| --- | --- |
| By Jonathan Noble | Friday, June 18th 2010, 15:33 GMT |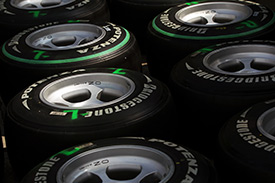 Bridgestone is not expecting a repeat in Valencia of the tyre chaos that turned the Canadian Grand Prix into a thriller.
Although the Japanese tyre manufacturer is bringing the same medium and super soft compounds that suffered severe degradation problems in Montreal last weekend, Bridgestone believes that the venue will produce a very different type of race weekend.
The tyres struggled so much in Canada because temperatures were much lower than expected in the build-up to race day, and the ultra-smooth track surface provided little grip to generate heat into the rubber.
Valencia is expected to not only be very hot, but its surface will be much harder on the tyres.
Bridgestone's director of motorsport tyre development Hirohide Hamashima said: "The layout and track surface is more aggressive to the tyres than in Montreal so we do not expect the same challenge for teams to get maximum performance from the medium and super soft compounds as in Canada.
"This year's European Grand Prix takes place in June, as opposed to the late August date of the first two Grands Prix in Valencia but we don't believe the date change will present us with radically different weather."