H24: Audi cruises to victory
| | |
| --- | --- |
| By Stuart Codling | Sunday, June 13th 2010, 13:02 GMT |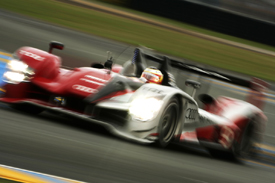 Audi has taken a one-two-three finish in the 2010 Le Mans 24 Hours after a succession of mishaps befell its chief competitor, Peugeot. Fewer than half of the 55 starters were classified at the finish of this brutally attritional race.
During the final hour the Audis gathered in formation for their traditional finish, crossing the line together with the #9 car shared by Timo Bernhard, Mike Rockenfeller and Romain Dumas first, ahead of Benoit Treluyer and Rinaldo Capello.
ORECA fielded the leading petrol-powered LMP1, 25 laps behind the final podium finisher. The #6 ORECA-Aim finished fourth in the hands of Soheil Ayari, Andy Meyrick and Didier Andre. Aston Martin slipped out of contention for petrol honours in the last quarter of the race and the #009 Hancock/Turner/Barazi entry retired with engine failure at the beginning of the final hour. The #007 Mucke/Primat/Fernandez car finished sixth overall.
In LMP2 Strakka Racing completed a remarkable run on the HPD ARX.01's Le Mans debut. Jonny Kane, Danny Watts and Nick Leventis brought the #42 HPD home in fifth place overall, seven laps ahead of their nearest rivals. Jan Charouz nursed the #35 Oak Racing Pescarolo-Judd across the line in a haze of oil smoke to finish second in the class.
Highcroft Racing, Strakka's chief rival in the early running, brought its car out of the garage 15 minutes from the chequered flag with Marino Franchitti at the wheel.
Behind the leading GT2s on the road in 13th overall, but five laps ahead of their nearest rivals, Gabriele Gardel, Roland Berville and Julien Canal won the GT1 class in the Larbre Saleen - the first Le Mans class win for the S7R. The car slowed dramatically in the final laps as Gardel preserved it for the finish. Jerome Policand continued to push almost to the very end in the second-placed #72 Corvette C6.R.
The quickest GT2s finished just outside the top 10 in 11th and 12th overall. Marc Lieb, Richard Lietz and Wolf Henzler had led the class in the works-supported #77 Felbermayr Porsche 911 since the leading Corvettes were eliminated shortly after dawn. The #89 Hankook-Farnbacher Ferrari of Simonsen/Keen/Farnbacher was two laps behind.