Horner: Blaming Webber a 'mistake'
| | |
| --- | --- |
| By Matt Beer | Wednesday, June 9th 2010, 16:05 GMT |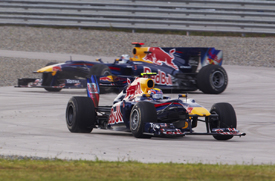 Red Bull Racing boss Christian Horner has acknowledged that it was wrong for some in the team to publicly blame Mark Webber for the Turkish Grand Prix collision, and says everyone is now agreed that it was a racing accident.
The company's motorsport advisor Helmut Marko had implied that Webber was the guilty party in the tangle with Sebastian Vettel that cost Red Bull an Istanbul one-two. Red Bull later insisted it felt both drivers were equally culpable, and Horner now says Marko's remarks were made in error before the full fact emerged.
"I think it was a mistake - if blame was adjudged to have been placed on Mark - because I think it was a racing incident," said Horner in a BBC interview.
"Certainly the view that I took was that the drivers should have given each other more room, that they should as team-mates have more respect for each other.
"The problem is in the heat of the moment immediately after the event, a couple of opinions were made without sight of all of the facts, and that's subsequently been dealt with.
"It's wrong for us as a team to apportion blame. We back both drivers equally. I think they both got themselves into a situation which was arguably a bit over the limit.
"The result was that both of them found themselves in a situation that they didn't really want to be in, the result was contact and a big loss of points and a gift of points to our rivals."
Horner said Red Bull would not be giving its drivers any new instructions on racing against each other or prioritising one over the other, as he is confident that Webber and Vettel will not risk repeating their Turkey clash.
"We won't be instructing one driver or another to concede or overtake, it's down to what they do on the circuit," Horner insisted.
"I think both drivers have learnt a great deal from the events in Istanbul. They will be racing each other quite possibly this weekend in Montreal.
"The most important thing as team-mates is that they respect the fact that they drive for the team, which I believe they do, and if they find themselves in that situation again, that they don't push each other quite so hard."