Haug: Red Bull situation a nightmare
| | |
| --- | --- |
| By Jonathan Noble and Pablo Elizalde | Thursday, June 3rd 2010, 10:27 GMT |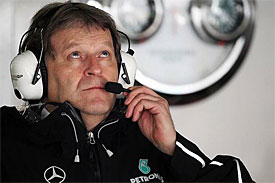 Mercedes motorsport boss Norbert Haug says the clash between Sebastian Vettel and Mark Webber is a 'nightmare' for Red Bull Racing.
"If it happens in fifth and sixth, it is different from if it happens when you are first and second," Haug told AUTOSPORT.
"I think a collision - we one time had it with David [Coulthard] and Mika [Hakkinen] spinning at the A1-Ring – but not a crash like that one.
"It is a nightmare. It is what you do not want to happen."
Haug insisted Red Bull must work to sort the situation out, and reckons the outcome will depend a lot on how it is managed by the team bosses.
"It depends on the management, on the influence – I have my view on this incident how it happened. I think they need to sort it out."
Team boss Peter Sauber agreed with Haug, but refused to put the blame on any driver.
"It is not my intention to say this driver made a mistake or that one, but for a team principal it is a nightmare to have that," Sauber told AUTOSPORT.
"Both cars in front, and I think under normal circumstances they would finish 1-2."
Sauber is also convinced that the team's management will be facing a difficult time.
"It is really difficult. Maybe these situation make racing interesting for the spectators and the media – and for the championship. From the outside it is good but not for a team principal."