Whitmarsh: McLaren influence still felt
| | |
| --- | --- |
| | Wednesday, June 2nd 2010, 11:21 GMT |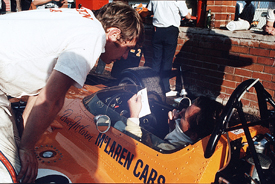 McLaren team boss Martin Whitmarsh has paid tribute to the company's founder Bruce McLaren on the 40th anniversary of the Kiwi's death.
The four-time grand prix winner founded McLaren in 1966, and although McLaren himself was killed in a Can-Am testing crash four years later and four decades ago today, his squad went on to become one of Formula 1's greatest ever teams.
Whitmarsh said McLaren's influence was still felt at the modern day team.
"The 40th anniversary of Bruce McLaren's death gives us the opportunity to reflect on his legacy, and to appreciate just how much of his original vision still lives on within our team," he said.
"Bruce made his name not only as a skilled and disciplined racing driver, but also as a pragmatic engineer with the inspiration, vision and determination to take on and beat the greatest teams in motorsport.
"It's an ethos that still holds true to this day, and one which Ron Dennis was careful to foster and promote when he assumed control of the team in 1980. Through Ron's guidance and stewardship, McLaren remains a company that is passionate about technology and engineering, and which is set apart by its keen sense of competition, attention to detail and desire to be the best.
"Bruce's values have seen us maintain a winning legacy throughout six decades of competition, and have rewarded us with victories in the Formula 1 world championship, the North American Can-Am series, the Indy 500, Formula 5000 and the Le Mans 24 Hours. Winning will always be central to the McLaren DNA.
"We are honoured to uphold the McLaren name. And, for many millions of people around the world, the name McLaren is motor racing - there can be no greater testament to Bruce than that."