Vettel frustrated by brake problems
| | |
| --- | --- |
| By Jonathan Noble and Pablo Elizalde | Saturday, May 29th 2010, 12:42 GMT |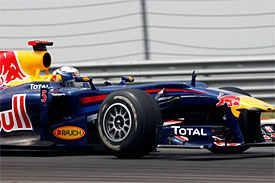 Sebastian Vettel was left mystified by the brake problems he suffered during the final qualifying segment in Turkey.
The Red Bull driver was unable to match the pace of team-mate Mark Webber, having to settle for third position while the Australian was again on pole.
Vettel, quickest in the first two segments of qualifying, said he was unable to brake properly in Q3, something he reckons cost him a lot of time.
"The first lap was brilliant up until Turn 12 and under braking I slightly locked the front, but that was no issue. Then it was weird because the front kept locking and never came back," Vettel said.
"After Turn 12 and Turn 13 the wheel turned again, and then the same again, I locked the inside wheel easily and the car didn't stop, I went straight and lost a bit of time. Otherwise it should easily have been a lot quicker. It is obviously very strange."
He insisted he was still happy to be starting from the clean side of the track.
"I'm happy to be third, and lucky to not be fourth - it is a long race tomorrow but with this year's regulations and no more fuel pitstops it is difficult to make up places."
Vettel also reckons there are no reasons to be downcast despite having being outqualified by Webber in the last three events.
"If you look at all the races, I think we have always qualified in the top three so far, which is not too bad," added the German.
"If you take the last two races in particular, Barcelona and Monaco, I think it is difficult to say looking back how much we lost because of the the chassis or other things going on we didn't want to.
"I am not the type of guy who says the car is broken and that is it. I always try to do better. If you look at today, Q1/Q2 was quick enough and in Q3 we lost it."