Rosberg calm about long wheelbase car
| | |
| --- | --- |
| By Edd Straw and Matt Beer | Thursday, May 27th 2010, 15:06 GMT |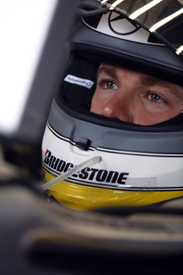 Nico Rosberg has no qualms about returning to Mercedes' long wheelbase car for the Turkish Grand Prix, even though his form slumped when it was introduced in Spain.
Having out-qualified and out-raced team-mate Michael Schumacher at every race up to Catalunya, the younger German finished behind the seven-time champion in Spain, and struggled for pace in practice and race conditions in particular. They were more evenly-matched in Monaco, where Mercedes switched back to its original short wheelbase configuration.
The longer style will be used again at Istanbul Park this weekend, but Rosberg is not worried by this, as he does not believe there is anything inherent in the revised car that suits Schumacher better than him.
"I had a look at it and came to the firm conclusion that it is the faster car, because the aerodynamics have been developed around it now," Rosberg said. "So that cannot have been the problem in Barcelona."
He remains baffled by his Spanish form three weeks on, and says it leaves him uncertain about what Turkey might hold.
"There are some things that are clear, and still some things that I don't really understand," Rosberg said.
"With respect to the pace compared to Michael, for example, I'm able to find explanations. I was one tenth behind in qualifying and I can find explanations to get me ahead of him. Why we were so far away from Red Bull in Barcelona, that's more difficult to explain.
"I'm not really sure what to expect [in Turkey]. We have a lot of developments on the car again. We were strong in Monaco, so we should be okay. At the same time, we weren't very good in Barcelona. So it's difficult.
"We're making progress, but it was clear in Barcelona that we're not making enough progress. We need to get some more out of it."