Raikkonen says results not important
| | |
| --- | --- |
| By David Evans | Tuesday, May 25th 2010, 08:28 GMT |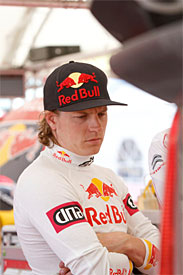 Red Bull World Rally Championship driver Kimi Raikkonen has admitted his result from this week's Rally of Portugal is not important to him, as he's more interested in getting to the end of the Faro-based event.
Raikkonen missed the last round of the championship in New Zealand, but will now contest every rally until the end of the season. The only rally where he has any previous experience is his home event, Rally Finland.
"It's fair to say that everything is completely new to me," said the former Formula 1 world champion. "I've been testing in France, but it's not the same as being in competition.
"The other drivers have been to New Zealand - which wasn't on my programme - and they also know the Rally of Portugal well, so it's not going to be easy for us. That doesn't really bother me though, as I am here to learn more than anything else.
"The final result at the end of the rally doesn't matter to me really: it's all about how much information I can take away for the future. We're just continuing our improvement step by step."
Raikkonen collected his best ever result on the Rally of Turkey last month, when he finished fifth in his Citroen Junior Team C4 WRC.