Lotus, Williams happy with Cosworth
| | |
| --- | --- |
| By Jonathan Noble | Friday, May 21st 2010, 15:52 GMT |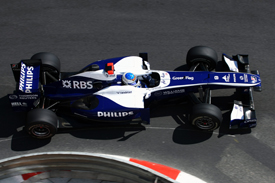 Williams and Lotus have both given their thumbs-up to the work that engine supplier Cosworth has done this year - as they rubbish speculation that they are looking at a move to Renault for 2011.
French car manufacturer Renault said in Monaco last weekend that it was hoping to expand its customer supply base for next year - prompting widespread rumours that Williams and Lotus could be targets.
However, both teams insist that they are happy with the progress that Cosworth has made and say they have every intention of seeing through the long-term contracts they have with the Northampton-based engine maker.
Cosworth itself has recognised the areas it needs to improve and Williams technical director Sam Michael said he welcomed the working relationship between his team and the engine supplier.
"We are extremely demanding of Cosworth because we want to get everything right, but they ask us to be like that as well," Michael told AUTOSPORT. "They want to be pushed because they don't want to be seen to be an engine that is just making up the numbers. And the only way they won't be like that is if they respond to us."
Williams CEO Adam Parr added: "I am happy with them and we are not looking at anyone else.
"But what I would say, and I think they have said too, is that the engine is good, we had very good pre-season testing, but we have had problems during the season with unexpected degradation issues.
"That has led to reliability issues because things are not lasting. So there is a requirement for some relatively simple changes to address those problems, but we are working on it."
High level Lotus sources have also confirmed that they too are pleased with the job that Cosworth has done on its return to F1, as the team looks forward to continued progress over the rest of the year.
Lotus is set to put its 2011 challenger into the wind tunnel soon, as it begins to shift focus between developing this year's car and beginning work on next season's model.