Dixon tops first full Indy practice
| | |
| --- | --- |
| By Steven English | Tuesday, May 18th 2010, 22:12 GMT |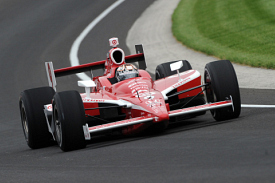 Scott Dixon set the fastest lap of Tuesday's running during this week's Indianapolis 500 practice.
The session was the first full day of practice, with yesterday's having been abandoned due to rain, ahead of qualifying this weekend. Though today's session was brought to a premature end, just a few minutes ahead of the scheduled time, when EJ Viso crashed heavily at Turn 1.
He was removed from the car and taken to the medical facility on a stretcher, before being transfered to the Methodist Hospital in Indianapolis. Viso was awake and alert throughout, but complaining of back pain.
Dixon topped the practice with a best time of 39.7265s (226.549mph), set early in the session when he knocked Mario Moraes off the top. But the Brazilian remained second and ended 0.1119s behind Dixon at 225.913mph.
Moraes survived a spin in the pit exit on the inside of Turn 1 mid-way through the six-hour session. He hit the retaining wall twice but was able to drive his KV Racing car back to the pits with just minor damage to the rear wing.
"These two days of testing have been really good," said Moraes. "We've just been getting back up to speed. The car feels really good. So far we've just worked on race set-up and I think tomorrow we will start working out our qualifying set-up.
"We didn't get to run the whole program today. I spun in Turn 1 coming out of the pits and I drove the car back to pitlane. The car wasn't hurt badly.
"I've been looking at the weather for the week and it looks like the qualifying weekend is going to be hotter, so we're waiting until we get closer to the weekend. I'm pretty confident that we have a car to get into the top nine and I'm pretty confident we can get into the field on the first day. I'm not sure if we have a car for the pole, but if we do then we will be fighting for that."
More caution periods broke up the running, with one for debris on the track early on, another for a track inspection and two more brief stoppages for rain inside the final hour.
But there was plenty of time for clear running and most drivers chose to complete between 20 and 50 laps in the time before Viso's crash.
Marco Andretti finished the day third fastest, ahead of Alex Tagliani, Dan Wheldon and Tony Kanaan. 2007 Indy 500 winner Dario Franchitti was seventh, ahead of three-time winner Helio Castroneves, with Will Power and Simona de Silvestro completing the top 10.
Pos Driver                 Team               Time       Speed      Laps
 1. Scott Dixon            Ganassi            39.7265s   226.549mph   36
 2. Mario Moraes           KV                 39.8384s   225.913mph   32
 3. Marco Andretti         Andretti           39.8669s   225.751mph   50
 4. Alex Tagliani          FAZZT              39.9301s   225.394mph   27
 5. Dan Wheldon            Panther            39.9329s   225.378mph   24
 6. Tony Kanaan            Andretti           39.9696s   225.171mph   30
 7. Dario Franchitti       Ganassi            40.0068s   224.962mph   25
 8. Helio Castroneves      Penske             40.0297s   224.833mph   37
 9. Will Power             Penske             40.0948s   224.468mph   37
10. Simona de Silvestro    HVM                40.1470s   224.176mph   60
11. Paul Tracy             KV                 40.1750s   224.020mph   43
12. AJ Foyt IV             Foyt               40.2011s   223.874mph   32
13. John Andretti          Petty/Andretti     40.2189s   223.775mph   52
14. Hideki Mutoh           Newman/Haas        40.2260s   223.736mph   42
15. Jay Howard             Sarah Fisher       40.2340s   223.691mph   34
16. Vitor Meira            Foyt               40.2388s   223.665mph   57
17. Ryan Hunter-Reay       Andretti           40.2442s   223.635mph   44
18. Juston Wilson          D & R              40.2502s   223.601mph   45
19. Ryan Briscoe           Penske             40.2784s   223.445mph   53
20. Graham Rahal           RLR                40.2812s   223.429mph   45
21. Ed Carpenter           Panther            40.2958s   223.348mph   26
22. Bertrand Baguette      Conquest           40.3020s   223.314mph   49
23. Townsend Bell          Schmidt/Ganassi    40.3763s   222.903mph   34
24. Davey Hamilton         de Ferran Dragon   40.3891s   222.832mph   45
25. Raphael Matos          de Ferran Dragon   40.4018s   222.762mph   34
26. Takuma Sato            KV                 40.4170s   222.679mph   57
27. EJ Viso                KV                 40.4293s   222.611mph   62
28. Tomas Scheckter        D & R              40.4566s   222.461mph   43
29. Sarah Fisher           Sarah Fisher       40.4959s   222.245mph   15
30. Danica Patrick         Andretti           40.5400s   222.003mph   61
31. Ana Beatriz            D & R              40.5459s   221.971mph   45
32. Alex Lloyd             Dale Coyne         40.5548s   221.922mph   81
33. Mike Conway            D & R              40.5673s   221.854mph   65
34. Mario Romancini        Conquest           40.6112s   221.614mph   75
35. Sebastian Saavedra     Bryan Herta        40.7338s   220.947mph   42
36. Milka Duno             Dale Coyne         40.8462s   220.339mph   51
37. Bruno Junqueira        FAZZT              no time                  0