Ferrari says F-duct improvement is key
| | |
| --- | --- |
| By Jonathan Noble | Monday, May 17th 2010, 15:52 GMT |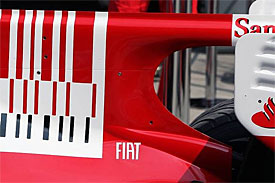 Ferrari thinks it's vital to get its F-duct working better at the Turkish Grand Prix if it is going to close down the gap to Red Bull Racing.
With Mark Webber's victory at Monaco on Sunday having helped his team move to the top of both championship tables, Ferrari has vowed to make a big development push to try and get itself on terms with F1's pace-setters.
However, with those upgrades not likely for a few more races, team principal Stefano Domenicali thinks that the key to taking the fight to the RB6 in Turkey will be on improving the F-duct.
"A car that has had six pole positions is very strong," said Domenicali about Red Bull Racing's form.
"But on the other hand they did two times first and second, but we are there in both championships because there is less than 25 points between first and second in the constructors' and we are only a couple of points behind in the drivers'. It means that the championship is really difficult for everyone.
"We need to keep up the pace for development for sure. We need to work on the improvement of our efficiency on the aerodynamic side, because that is the most important thing we need to focus on.
"And I think that, for example, in Turkey we have to make sure that our system of the rear wing that we tried in Barcelona is really working and is effective, and has no downsides. And we have some good developments that should be ready afterwards, so that is what we do.
"We need to work very, very strongly. Very hard. We know the areas we need to improve and then we can see where we are. This weekend we knew that McLaren, it was not easy for them, but I expect them to be back again in a circuit like Turkey."
Domenicali said post-Spain analysis of the F-duct used in the Barcelona had shown that it had actually cost the F10 ultimate downforce - despite providing a straight-line speed boost.
It was this area that he felt needed improving – as well as perhaps altering the way Fernando Alonso and Felipe Massa used it.
"We are working on different solutions and we will decide what we are going to do for Turkey," he said. "It is not decided yet, but for sure we are investigating a better option to have better control from the driver point of view."