Truex takes Dover Cup pole
| | |
| --- | --- |
| By Diego Mejia | Friday, May 14th 2010, 21:12 GMT |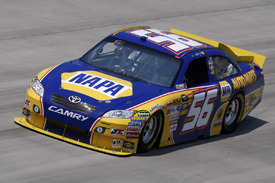 Martin Truex Jr claimed his first pole position for Michael Waltrip Racing in qualifying for Sunday's NASCAR Sprint Cup Series race at Dover International Speedway.
The 29-year-old set a lap time of 22.884 seconds at an average speed of 157.315 mph, which he posted early on and remained unmatched for the rest of the session.
"We won here a couple of years ago from 26th," said Truex. "So I don't think it's so much where you start here but the pit stall and the track position is going to help us a tonne. With our pit crew as good as they've been this year, they've done such an awesome job, so giving them that #1 stall is going to be even more of an advantage."
Truex, who claimed his first and only victory thus far in the Sprint Cup Series at Dover in 2007, will be joined on the first row of the grid by Kasey Kahne, who got to within six thousandths of a second of his benchmark.
"We felt pretty good in practice and the lap there in qualifying felt really balanced," said Kahne. "The splitter got on the track a little more than I wanted in [Turns] 1 and 3. I had to wait a little bit in each corner. It was a good run for us. I think that we started in the same spot here last year. I am looking forward to Sunday."
Mark Martin qualified third within the same tenth of a second as the polesitter, while Kyle Busch, who is competing in the Truck and Nationwide Series races as well this weekend, joins the veteran on the second row of the grid.
Reigning champion Jimmie Johnson, who won both races at Dover last year, had been quickest earlier in practice but could not quite back that up in qualifying, ending up fifth fastest.
Clint Bowyer, AJ Allmendinger, Carl Edwards and Sam Hornish Jr rounded out the top ten, Edwards showing promise since early in practice as he hopes to get back to winning ways. Points leader Kevin Harvick qualified back in 30th place.
Casey Mears was 39th fastest filling in for Brian Vickers, ahead of Johnny Sauter, who took his place in the #36 car of Tommy Baldwin Racing.
Max Papis had looked good in practice but made contact with the wall on his qualifying run and ended up missing the field, as did Todd Bodine.
Teams will be back on track on Saturday for two practice sessions ahead of Sunday's race.
Pos  Driver             Car        Speed       Time     Gap
 1.  Martin Truex Jr    Toyota     157.315mph  22.884s
 2.  Kasey Kahne        Ford       157.274mph  22.890s  + 0.006s
 3.  Mark Martin        Chevrolet  157.198mph  22.901s  + 0.017s
 4.  Kyle Busch         Toyota     157.006mph  22.929s  + 0.045s
 5.  Jimmie Johnson     Chevrolet  156.904mph  22.944s  + 0.060s
 6.  Ryan Newman        Chevrolet  156.849mph  22.952s  + 0.068s
 7.  Clint Bowyer       Chevrolet  156.829mph  22.955s  + 0.071s
 8.  AJ Allmendinger    Ford       156.706mph  22.973s  + 0.089s
 9.  Carl Edwards       Ford       156.678mph  22.977s  + 0.093s
10.  Sam Hornish Jr     Dodge      156.597mph  22.989s  + 0.105s
11.  Jamie McMurray     Chevrolet  156.576mph  22.992s  + 0.108s
12.  Kurt Busch         Dodge      156.426mph  23.014s  + 0.130s
13.  David Reutimann    Toyota     156.406mph  23.017s  + 0.133s
14.  Denny Hamlin       Toyota     156.331mph  23.028s  + 0.144s
15.  Jeff Gordon        Chevrolet  156.250mph  23.040s  + 0.156s
16.  Tony Stewart       Chevrolet  156.236mph  23.042s  + 0.158s
17.  Jeff Burton        Chevrolet  156.223mph  23.044s  + 0.160s
18.  Joey Logano        Toyota     156.216mph  23.045s  + 0.161s
19.  Elliott Sadler     Ford       156.074mph  23.066s  + 0.182s
20.  Brad Keselowski    Dodge      155.871mph  23.096s  + 0.212s
21.  Matt Kenseth       Ford       155.730mph  23.117s  + 0.233s
22.  David Ragan        Ford       155.615mph  23.134s  + 0.250s
23.  Paul Menard        Ford       155.534mph  23.146s  + 0.262s
24.  Greg Biffle        Ford       155.092mph  23.212s  + 0.328s
25.  JJ Yeley           Dodge      155.005mph  23.225s  + 0.341s
26.  Marcos Ambrose     Toyota     154.999mph  23.226s  + 0.342s
27.  Dale Earnhardt Jr  Chevrolet  154.779mph  23.259s  + 0.375s
28.  Juan Montoya       Chevrolet  154.652mph  23.278s  + 0.394s
29.  Scott Speed        Toyota     154.573mph  23.290s  + 0.406s
30.  Kevin Harvick      Chevrolet  154.486mph  23.303s  + 0.419s
31.  David Stremme      Ford       154.361mph  23.322s  + 0.438s
32.  Mike Bliss         Chevrolet  154.182mph  23.349s  + 0.465s
33.  Bobby Labonte      Chevrolet  154.011mph  23.375s  + 0.491s
34.  Michael McDowell   Toyota     153.892mph  23.393s  + 0.509s
35.  Dave Blaney        Toyota     153.807mph  23.406s  + 0.522s
36.  Joe Nemechek       Toyota     153.787mph  23.409s  + 0.525s
37.  Regan Smith        Chevrolet  153.734mph  23.417s  + 0.533s
38.  Travis Kvapil      Ford       153.721mph  23.419s  + 0.535s
39.  Casey Mears        Toyota     153.564mph  23.443s  + 0.559s
40.  David Gilliland    Ford       153.094mph  23.515s  + 0.631s
41.  Johnny Sauter      Chevrolet  152.795mph  23.561s  + 0.677s
42.  Todd Bodine        Toyota     152.698mph  23.576s  + 0.692s
43.  Max Papis          Toyota     152.420mph  23.619s  + 0.735s
44.  Kevin Conway       Ford       151.777mph  23.719s  + 0.835s
45.  Robby Gordon       Toyota     151.598mph  23.747s  + 0.863s