Bridgestone bosses in push to stay in F1
| | |
| --- | --- |
| By Jonathan Noble | Tuesday, May 11th 2010, 08:58 GMT |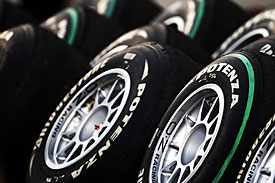 Bridgestone's Formula 1 bosses are to make a renewed push to try and get Japanese company board members to reconsider the decision to quit the sport at the end of this year, AUTOSPORT has learned, following pressure from teams for it to continue in grand prix racing.
As F1 teams try and close in on a decision on tyres for next season, outfits have begun efforts to get Bridgestone to go back on its decision to quit.
Bridgestone's motorsport director Hiroshi Yasukawa met with F1 team representatives several times over the Spanish Grand Prix weekend, where he was informed that teams are now keen for the Japanese company to remain.
And that message from teams was reinforced to Bridgestone's new European CEO Makio Ohashi, who was present over the Barcelona weekend.
Although Bridgestone's stance that it is quitting F1 at the end of this year remains unchanged for now, Yasukawa has revealed that he will inform Japanese company chiefs about how keen F1 teams are for them to reconsider their plans.
Speaking to AUTOSPORT, Yasukawa said: "After each race meeting we make a report to Japan, so are going to report to our top board members about what has happened this weekend. Mr Ohashi has also realised that F1 is very important for Bridgestone.
"I really appreciate the teams' approach, and we are happy that they still trust in our company and they wish Bridgestone to say. Maybe we have to reconsider because of the market and the environment. We also understand that F1 itself is more concerned about the environment now, and there is a new power train coming.
"However, nothing has changed yet. Our company has said, very unfortunately, that we have to stop at the end of this year."
F1 teams are set to have further discussions in Monaco this weekend to try and agree on their preferred route for tyres for next season - with outfits reckoning that Pirelli and Michelin offer the best option for next year if Bridgestone does not remain.
Mercedes GP CEO Nick Fry said that teams were calm about the situation, but well aware that a decision had to be made quickly.
"I think we have got to make a solution and come to a decision in the next 10 days or so," he explained. "The encouraging thing is we are in a massively better position than three or four weeks ago, when maybe we had one option open to us. Now we have three and discussions are going on trying to persuade Bridgestone to stay."