Alonso: Fighting Red Bull unrealistic
| | |
| --- | --- |
| By Jonathan Noble and Pablo Elizalde | Saturday, May 8th 2010, 14:06 GMT |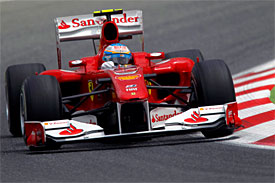 Fernando Alonso says it is not realistic to expect to be able to fight with the Red Bulls in the Spanish Grand Prix tomorrow.
The Ferrari driver qualified in fourth position, nearly a second behind pole-setter Mark Webber, who gave his team the fifth pole in as many races this year.
And while Alonso is hopeful he will be closer in the race, he reckons Red Bull is likely to be untouchable tomorrow.
"We have not been perfect in terms of grip and downforce-wise," said Alonso after qualifying. "And also set-up wise we've been not totally confident with the car all weekend. But in Q3 more or less we found the right compromise and the lap in Q3 the car was quite good to maximise our potential.
"Tomorrow in the race hopefully the performance will be closer to the Red Bulls. We've had very strong race pace so we hope tomorrow to be a little bit closer.
"Iif you are two or three tenths behind you maybe can fight for victory, but if you are a second behind you can only expect to be not too far away. In normal conditions Red Bull is favourite for tomorrow.
"We arrive into the race with a lot of confidence, knowing that we can have some opportunities to be on the podium. We just need to take them."
The Spaniard, who was involved in an incident with Nico Rosberg when leaving the pitlane, reckons he did not deserve a penalty, especially judging by how other pitlane incidents have been treated during the first races of the season.
Rosberg called for a penalty for Alonso on the radio and race stewards are looking into the incident.
"First of all I didn't see Nico, unfortunately," he said. "The angle of vision is not perfect to see anyone coming down the pitlane, so you rely on your mechanic.
"Then if there is a penalty for this we need to reconsider some of the grands prix we've had so far, in terms of penalties in the pitlane. And third, in case of a penalty, since it's a safety thing in the pitlane it's normally a fine for the team, so hopefully there isn't any of these cases."