Bourdais takes pole for Peugeot
| | |
| --- | --- |
| By Simon Strang | Saturday, May 8th 2010, 13:35 GMT |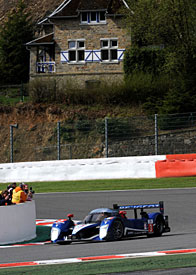 Sebastien Bourdais gave Peugeot pole position for the Spa 1000km with a stunning lap of 1m57.884s to fend off a seemingly growing threat from Audi this weekend.
The Frenchman put the #3 908 HDi FAP to the top of the times halfway through the 20-minute session and in doing so put down a slightly unexpected challenge from the # 9 Audi of Timo Bernhard.
The German fired in two aggressive fliers at the beginning of the session as he made an R15 TDI Plus break the two-minute barrier for the first time this weekend.
His second effort - a 1m58.519s - was 0.7s off the pole and as close as any Audi has got to the ultimate pace all weekend.
Stephane Sarrazin was third quickest in the #2 car. The Frenchman, who set the pace in final free practice this morning, gave it his best in the last couple of minutes but simply could not find a clear lap.
Nicolas Lappiere maintained the threat of the privateer ORECA Peugeot in fourth position ahead of the #8 Audi driven by Andre Lotterer.
The #7 Audi, perhaps the German machine most expected to cause French headaches, did not fare so well.
Tom Kristensen, allotted qualifying duties, came into contact with the LMP2 pole-winning car of Danny Watts at La Source and this almost certainly played a factor in the Dane's distant sixth position.
Alexander Wurz, who had not been happy with oversteer in the morning session, was seventh in the third factory Peugeot.
Franck Mailleux put the Signature Aston Martin in eighth ahead of Nicolas Prost's Rebellion Lola and the LMP 2 Strakka car.
Perhaps it was the incident with Kristensen that gave Watts an angry edge but he ended the session more than two seconds faster than his nearest LMP2 rival - Tommy Erdos's RML Lola.
Mathieu LaHaye was third fastest in class in the Oak Racing Pescarolo.
The GT session was fragmented by a red flag when the Matech Ford went off heavily at Signes with Rachel Frey at the wheel. The stoppage to recover the car only recently repaired from Natacha Gaschnang's shunt in the FIA GT opener at Abu Dhabi, meant that several drivers' laps were disrupted.
In the it was another Ford GT, that of Bas Leinders, that eventually took the pole in GT1. Matech's other car was second fastest in class ahead of Julian Jousse's Luc Alphand Corvette.
AF Corse Ferrari's Jaime Melo took the pole for GT2 by four hundredths from Marc Lieb in the Felbermayr Porsche. CRS Racing's Andrew Kirkaldy was third fastest.

Pos Driver                            Class//Car                    Time
 1. Lamy/Bourdais/Pagenaud            P1  Peugeot 908 HDi-FAP       1m57.884s
 2. Bernhard/Dumas/Rockenfeller       P1  Audi R15 TDI              1m58.519s
 3. Montagny/Sarrazin/Minassian       P1  Peugeot 908 HDi-FAP       1m59.421s
 4. Panis/Lapierre/Duval              P1  Peugeot 908 HDi-FAP       1m59.623s
 5. Fassler/Lotterer/Treluyer         P1  Audi R15 TDI              1m59.707s
 6. Capello/Kristensen/McNish         P1  Audi R15 TDI              1m59.795s
 7. Gene/Wurz/Davidson                P1  Peugeot 908 HDi-FAP       1m59.989s
 8. Ragues/Mailleux/Ickx              P1  Lola - Aston Martin       2m02.413s
 9. Prost/Jani                        P1  Lola B10/60 - Rebellion   2m02.845s
10. Leventis/Watts/Kane               P2  ARX-01c 2:27.882 20       2m03.135s
11. Belicchi/Boullion                 P1  Lola B10/60 - Rebellion   2m03.143s
12. Erdos/Newton/Wallace              P2  Lola HPD Coupe            2m05.681s
13. Lahaye/Nicolet                    P2  Pescarolo - Judd          2m07.159s
14. Amaral/Pla                        P2  Ginetta-Zytek 09S         2m07.342s
15. Francioni/Pirri                   P2  Lola Coupe B09 - Judd     2m08.309s
16. Geri/Piccini/Piccini              P2  Lola Coupe B09 - Judd     2m08.398s
17. Moreau/Hein                       P2  Pescarolo - Judd          2m09.104s
18. Noda/De Pourtales/Kennard         P2  Lola B08/47 - Judd        2m09.795s
19. Pillon/Verdonck/Capillaire        FLM Oreca                     2m13.743s
20. Frey/Meichtry/Bruneau             P2  Radical SR9 - Judd        2m13.912s
21. Kraihamer/De Crem/Delhez          FLM Oreca                     2m14.278s
22. Toulemonde/Zollinger/Zampatti     FLM Oreca                     2m14.284s
23. Zacchia/Kaufmann/Moro             FLM Oreca                     2m15.611s
24. Schell/Da Rocha                   P2  Courage-Oreca LC75        2m16.832s
25. Leinders/Palttala/De Doncker      GT1 Ford GT                   2m17.316s
26. Barlesi/Cicognani/Chalandon       FLM Oreca                     2m17.345s
27. Mutsch/Hirschi/Beche              GT1 Ford GT                   2m18.730s
28. Jousse/Gregoire/Hart              GT1 Corvette C6.R             2m19.377s
29. Enge/Nygaard/Mucke                GT1 Aston Martin DBR9         2m19.595s
30. Bruni/Melo                        GT2 Ferrari F430 GT           2m20.336s
31. Lieb/Lietz                        GT2 Porsche 997 GT3 RSR       2m20.416s
32. Kirkaldy/Mullen                   GT2 Ferrari F430 GT           2m20.811s
33. Companc/Russo                     GT2 Ferrari F430 GT           2m20.941s
34. Ehret/Quaife/Kaffer               GT2 Ferrari F430 GT           2m21.095s
35. Schroyen/Van Dam/Lacko            GT1 Saleen S7R                2m21.110s
36. Ragginger/Ried/Long               GT2 Porsche 997 GT3 RSR       2m21.173s
37. Muller/Werner/Alzen               GT2 BMW M3                    2m21.257s
38. Pilet/Narac                       GT2 Porsche 997 GT3 RSR       2m21.328s
39. Holzer/Westbrook                  GT2 Porsche 997 GT3 RSR       2m21.403s
40. Bell/Turner                       GT2 Aston Martin Vantage      2m21.420s
41. Allemann/Frey/Zimmer              GT1 Ford GT                   2m21.422s
42. Priaulx/Mullen/Farfus             GT2 BMW M3                    2m21.509s
43. Dumbreck/Coronel                  GT2 Spyker C8 Laviolette      2m21.564s
44. Alesi/Fisichella/Vilander         GT2 Ferrari F430 GT           2'21.750s
45. Farnbacher/Simonsen               GT2 Ferrari F430 GT           2'21.752s
46. Gardel/Goueslard/Rees             GT1 Saleen S7-R               2'21.918s
47. Kutemann/Basso/Hartshorne         FLM Oreca                     2'24.505s
48. Von Splunteren/Hommerson/Machiels GT2 Porsche 997 GT3 RSR       2'25.468s
49. Daniels/Slingerland/Lanik         GT2 Porsche 997 GT3 RSR       2'25.607s
50. Ojjeh/Greaves/Ebbesvik            P2  Ginetta-Zytek 09S         no time