Massa hopeful of step forward in Spain
| | |
| --- | --- |
| By Jonathan Noble and Pablo Elizalde | Thursday, May 6th 2010, 15:12 GMT |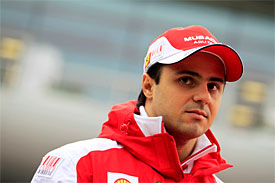 Felipe Massa is hopeful his Ferrari team can take a significant step forward thanks to the updates introduced in the Spanish Grand Prix this weekend.
"We have some changes to the car, also some details from an aerodynamic point of view, we also have the famous blown rear wing that I hope we can have some improvement with, and also some details on the aerodynamics which gives us some more performance," Massa told reporters on Thursday.
"Definitely it is also a track and a race where we had three weeks between so most of the teams will have new parts on the car.
"I hope we can have a bigger advance than the other teams."
He added: "We will see with all the new parts from the cars that we will see, who will improve more the car.
"For sure if Red Bull maybe was two tenths quicker than the other teams in qualifying until now, so if another team improves by more than two tenths it will be different, so we will see how it is going to be but definitely Red Bull is a great car, and most of the qualifying they were in front, that is something we need to keep in mind, but we cannot forget McLaren and we cannot forget Mercedes.
"So it is something that we are always focused with, not just one or the other."
The Brazilian also reckons it is still not too late for his team to be introducing its F-Duct system, despite McLaren having benefit from its use for four races.
"I don't think so. We had just maybe one team using it, Sauber, but they were not very happy with that, McLaren was the only team who was using it, for sure when you see another car has it before you, it was better for the other car.
"That is not just Ferrari, but even Red Bull don't have the F-Duct, and Mercedes maybe they will have it here, I don't know. So I think maybe we are pushing hard to improve the car and I hope in the right time."
Massa, whose team has been allowed to make some changes to its engine, played down the significance of the tweaks, which he says are purely reliability-related.
"We had just a change on the engine, talking about the reliability, that is the most important thing we had. We had a little issue especially on Fernando's engine that we just modified and improved that part which had this problem, but it is nothing that will give more performance, it will just give us more reliability which is important for us definitely."
And the Ferrari driver again dismissed talk of any rift between himself and team-mate Fernando Alonso following their incident in the previous race in China.
"For sure tired a little bit with the questions, but I don't care. I just care for my job inside the team and the way we work to the future, which is a good relationship and we need to carry on like that, that is my point.
"We are both strong drivers. I was here with Michael, I was here with Kimi and am here with Fernando, I feel a lot of respect inside the team and I don't think about it."