Rally Japan loss 'will deter teams'
| | |
| --- | --- |
| By David Evans | Wednesday, May 5th 2010, 09:26 GMT |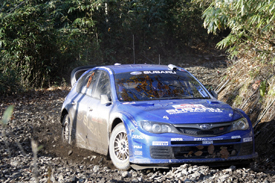 Dropping Rally Japan could cost the World Rally Championship future involvement from Japanese manufacturers, according to the event's clerk of the course Dimar Krivtsov.
The Hokkaido-based event will not feature on next year's WRC calendar after it was overlooked by the sport's promoter North One Sport.
"Granted, there is no Japanese manufacturer in the sport anymore - that is true, but I would have thought having Japan in the calendar would help to bring them back," said Krivtsov.
"The only idea of them being in the championship was the opportunity to showcase themselves in Japan – with that missing I really don't know what the manufacturers would think about coming back."
North One Sport's Simon Long said: "We have lost Japanese manufacturers Subaru, Suzuki and Mitsubishi from the championship and, in the context of manufacturers, there's, perhaps, not the compelling case for putting Japan in the calendar there once was.
"But, the door is always very much open here and we will be talking to the organisers in the future."