| | |
| --- | --- |
| Arena layout praised by riders | |
| | |
| --- | --- |
| By Simon Strang and Pablo Elizalde | Thursday, April 29th 2010, 14:13 GMT |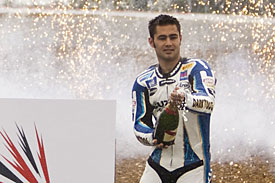 World Superbike Championship leader Leon Haslam has hailed the new Silverstone layout as a success after riding around the track on Thursday.
"There has been a lot of thought put into this," said Haslam during the official launch of the Arena layout.
"It has got all the different undulations of the track and it is very wide, fast and flowing which from a bike point of view is perfect. You don't want any tight and twisty chicanes, they are not very exciting, and from a passing point of view it should be fantastic.
"From a high-speed point of view, the track itself makes it fun. There will be a lot of slipstreaming going on and the corner entries are all so wide, you can actually make the moves.
"That's not going to be the fastest way around the track but it will give riders the opportunity to have a go and I think that is a great thing," added Haslam.
He was also delighted that this year's MotoGP race was back at Silverstone after several years at Donington.
"It's fantastic to have the British MotoGP back at Silverstone," he said. "It's a shame we've lost one other circuit in England, but at the same time with Formula 1, World Superbike, MotoGP - everything - being here, this can be the British hub for motorsport.
"To get everyone under one roof, at such a fantastic circuit like it is, I think it should be really good."
Former 500cc rider Jeremy McWilliams also praised the circuit, which he reckons will be popular among MotoGP racers.
"I think they have got the mix of it perfectly right in terms of both F1 and MotoGP, which is important," McWilliams said. That is something that I thought we were always going to be up against. The F1 aspect required different kinds of turns and stops than two wheels do.
"It looks like it's quite fast and flowing and it will work very well for two-wheels.
"MotoGP is moving into a new era and it's important for the series to bring in tracks like Silverstone. The GP riders are really going to love it, it's a brand new concept, new circuit and I think it will really suit the top four riders.
"Just looking at how close the grandstand is to the circuit, this is something new for Silverstone. Richard Phillips has taken on the challenge of getting the spectators closer to the action. The sensation of having MotoGP here be electric."