McLaren: Success down to work rate
| | |
| --- | --- |
| By Jonathan Noble | Thursday, April 22nd 2010, 15:43 GMT |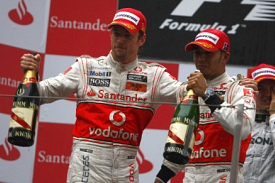 McLaren duo Jenson Button and Lewis Hamilton believe their team's success this year is the result of the supreme effort their outfit has made behind the scenes in the early part of the season.
With Button leading the drivers' championship and McLaren at the top of the constructors' championship, the Woking-based team has left rivals Red Bull Racing and Ferrari wondering why they have not been able to maximise their speed potential.
But reigning champion Button believes there has been no magic to McLaren's start to the year.
"Make no mistake, it's been achieved through hard work," Button wrote on his official website on Thursday. "We got here because every one in the McLaren Mercedes team has been working for this every single day.
"I first got in the car in February, and it really hasn't stopped since then - whether it's been at the tests, at the races, on the track or off it, we've all been working like crazy to get to the front - and I think our current position in both championships is well and truly deserved.
"We've not got everything right - but the fact that we've admitted that, and just got on and learned from it, has been a very valuable experience. And we're not relaxing now we might have some difficulties getting the people, the cars and the freight home before Barcelona, but that won't stop the efforts we're making to be even more competitive when we return to Europe."
Hamilton also believes that McLaren's efforts this year are also being helped because of the work ethic instilled in team members throughout 2009 when they had to recover from a disastrous start to the campaign.
"I know how much we've worked to get a result like this," Hamilton wrote on his website. "I remember saying last year that the victories we earned in 2009 would feel even sweeter because we'd had to work so hard for them - and the same's really true of this one-two: it's something that's been building for, well, ever since the start of last year really.
"And it feels like the team is really firing on all cylinders - everybody in this team, every single last person, is working better than ever to get us these results, and it's really starting to pay off.
"The atmosphere within the team is fantastic - we are a strong group now, and we know what it takes to win more races. We are hungry for it. China was good - but we want more of those results because they always make us feel so good."
Although Hamilton has seen team-mate Button win two races while he has yet to open his account, he thinks the pair are helping push McLaren on to new heights this season.
"Jenson's a great driver and we can really learn from each other," he said. "That's what I think has really helped us to develop this car into a front runner. We've got a lot of experience between us but we're both always learning - and I still think this car can get better.
"We have a lot of developments in the pipeline; we've got quite a few changes for Barcelona and I think we can be right up there. We still really need to focus on our qualifying pace: we made some improvements in China, but there's still a way to go. We'll get there though.
"Most of all, I know I can win races in this car - the car still feels so planted, more than any Formula 1 car I've driven, and I'm sure those victories will come."