Haug: New rules must suit independents
| | |
| --- | --- |
| By Jonathan Noble and Andrew Papworth | Wednesday, April 21st 2010, 13:53 GMT |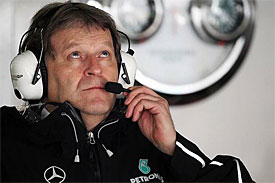 Norbert Haug believes Formula 1's next generation of engine regulations needs to suit the sport's smaller teams more than the leading manufacturers.
Discussions about the rules from 2013 onwards are ongoing, and the Mercedes motorsport boss warns that any changes must primarily help to safeguard the smaller teams.
"I think now we have the best teams, and it is good to have a variety of cars in the field, but we need to support the independent manufacturers to make sure that we have a bottom-up plan, rather than a top-down plan," Haug said.
"We need the independent manufacturers and we need to have Ferrari. We need to find a good solution and still, Formula 1 needs to be technically driven.
"I'm very positive about the process and we can achieve it together. It has been possible in the past and there is a good constructive atmosphere between Jean Todt and the teams."
Haug added that he expects to see a smaller, more environmentally-friendly unit replace the current power plants.
"The fascinating thing about Formula 1 is it's fast, it's loud, it's on the limit," he said. "We can discuss green initiatives, but Formula 1 needs to be technically driven. If you fly from Europe to Japan on a 747, you would use more fuel than an entire F1 season. We need to see the whole picture.
"We need to be mindful that we are building the cleanest cars we can. The engine will be downsized in 2013 because the fuel consumption has to go down, and we need to cut carbon emissions. But we must not think that a 700bhp engine is going to be the greenest car ever, because that's not great."