Dennis: McLaren initiated Mercedes split
| | |
| --- | --- |
| By Jonathan Noble | Wednesday, April 14th 2010, 05:14 GMT |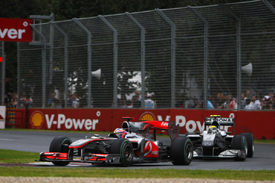 McLaren was the party that initiated the end of its exclusive tie-up with Mercedes-Benz at the end of last season, former team principal Ron Dennis has revealed.
Mercedes-Benz ended its long-running partnership with McLaren at the end of 2009, so it could shift its main focus into taking over the former Brawn GP outfit.
And although at the time there were suggestions that McLaren losing its exclusive arrangement with Mercedes-Benz could hurt the team's future prospects, Dennis remains adamant it was for the best - especially since his team continues to receive a supply of customer engines.
Furthermore, he has also claimed that it was McLaren – and not Mercedes-Benz – that wanted the relationship to change.
"It was completely and utterly amicable," Dennis told Arabian Business magazine about the split with Mercedes-Benz. "They continuously over the years wanted to have control of McLaren and we continuously told them we did not want them to have control of McLaren.
"The more they wanted it, the less we wanted to give it to them. Because you look at what happens... the influence they [car manufacturers] control is not always productive. CEOs change overnight. I have got 30-odd years of my life in this company, huge quantities of friends and people who have been through thick and thin with me, and I made it very clear to Mercedes-Benz, as did the other shareholders, that we are not for sale. They hankered always."
He added: "We initiated it, we wanted to be independent. This wasn't something which we weren't party to. I mean engine supply to Brawn in 2008 [for the 2009 season] required our consent.
"At the end of the day we were a fully integrated partner of Mercedes-Benz, and we still are. We are fiercely competitive on circuit, but off circuit we are still firm friends. I wouldn't call it a sweetheart deal, but it was a win-win situation.
"They got exactly what they wanted: a grand prix team they had complete control over – and we had continuous engine supply and the ability to promote our product and build the McLaren brand.
"It was just a win-win situation. In the end, obviously, when we all realised this was going to happen, it was all very logical."