Q & A with McLaren's Paddy Lowe
| | |
| --- | --- |
| By Jamie O'Leary | Tuesday, April 13th 2010, 12:19 GMT |
The dispute over active suspensions seems to be over now that the FIA has made it clear any systems that would alter the ride height would be deemed illegal.
After that, McLaren has decided to stop work on its own system and will race in China with its regular car.
AUTOSPORT heard from McLaren's engineering director Paddy Lowe on the suspension affair and a lot more ahead of the Shanghai race.
Q. Has McLaren had to change its suspension system following the FIA's clarification that self-levelling ride height systems are illegal?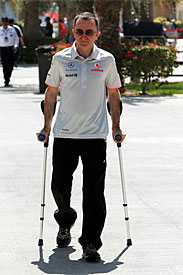 Paddy Lowe - McLaren engineering director: We've been working with the FIA on this subject for months. It's a complex subject and one that goes back really to 1993 when active ride suspension was banned. Exactly how you interpret the regulations in relation to ride height adjustment is very complex. I have to say we respect the FIA's job of navigating through that difficult area.
We were aware over the last few months of a different approach to it, an approach which historically we hadn't thought to be the typical interpretation, and we were reacting to that. Now that the FIA has taken a fresh view of it and drawn a different line - and one we think is nearer the historical line – we are reacting to that too, so we've had to change some of the things we're doing.
Q. Will the ruling affect the competitiveness of the MP4-25 in China?
PL: Not our car, because in terms of us taking this fresh approach to the rules, I got the feeling we were rather late to the game relative to perhaps some others. We absolutely don't know who has been doing what and whether anyone has been racing anything in the nature of ride height control systems. We got the feeling that others were further advanced in development. I haven't got a clue as to whether anyone else has a system on their cars. We had a system that we were working on which we've no suspended.
Q. Has McLaren put such a system on the car yet?
PL: No. There are no alterations we need to make for China.
Q. What went wrong in Malaysia qualifying?
PL: One of the issues we recall with some pain was Monza 2008, when we also made mistakes in a wet Q1 and Lewis [Hamilton] also paid the price. We wanted to learn from that experience and put it into practice in Malaysia, but we applied the wrong learning. What we really needed to be doing was shadowing the tyre choice of the people we needed to knock out of Q1, not our immediate competitors.
I think all the leading teams suffered from that and some got knocked out and some didn't. We came particularly badly off because Lewis spun in the last turn when the track was at its quickest, and Jenson [Button] made it through [to Q2] before he spun off on the subsequent lap. We've refined our rules in terms of how we approach wet conditions.
There are a lot of factors to consider. There had been a strong hint from the teams and drivers meetings that if the whole qualifying had been called off due to torrential rain in mid-course, then all the times from Q1 would become the grid. This is another factor why some teams were holding out to try and get the best times on the best tyres we had. In a sense that was greedy, but the greed was there for rational reasons.
Q. How much extra work and cost would a switch to low-profile tyres, as is being suggested by Michelin for 2011, create?
PL: Michelin are talking to the FIA, FOTA and FOM about a return to F1 for 2011-2013 and 18 inch wheels would be a requirement on their part. Principally they feel that those size wheels would be more contemporary in terms of appearance and technology. For us, it depends how we manage it as to how big a problem it could become.
In terms of being conscious of the time and the costs, the teams, I hope, will agree to a set of constraints that mean we don't expand the development into an envelope that's screwed up by that. With a bigger wheel you have less volume around the upright and the brake, for example, and that would have to be looked at. I think that new rules can be written in a way that managed the costs, and I don't think it would be too bad.
Q. Would McLaren support such a move?
PL: Yes. I think all the teams have agreed that if Michelin supplies that as a condition then we'll support that.
Q. What are the strengths and weaknesses of the current McLaren?
PL: The car is good overall on race pace and particularly in the early to mid part of the race, we're in good shape relative to our competitors. If you want to win a race, then having a good qualifying position is very important, but the pace you do have in the first third of the race is the really crucial bit. It's proven that our car is at its strongest at that point. I think it has shown an ability to overtake that's proved very fruitful whereas others have struggled, so there's clearly good straightline performance.
I think really qualifying is the one thing where we need to improve. We are pretty happy with the car and Lewis has been saying some very nice things about it recently compared to last year. We freely admitted that last year's car was very poor in high-speed corners and this car is the reverse of that. It's very much stronger in the high-speed corners compared to the low-speed ones.
Q. Have the budget restrictions that the teams agreed to last year really been implemented? There's been little physical evidence, especially with teams upgrading cars on a race-by-race basis.
PL: The teams agreed a contract called the resource restriction agreement and that did introduce a set of caps. We have the wind tunnel and CFD caps which have been running for over a year now. We also have external expenditure and headcount caps. We are all working to those – at least we are at McLaren anyway – and they have ensured that we've had to be more precise about how we use different elements of the budget in those categories. Although it may not appear things have changed, they have, and it will get tougher over the next 12 months. In some ways it is good that some people haven't noticed the change, because we still need to put on a show and it's not good for that if there is suddenly a perception that we've turned into dinosaurs technologically. I would hope we can still continue by being more efficient, and we're finding greater efficiency all the time. Things are changing behind the scenes, and people not being able to spot it is probably a good thing.
Q. Have the rear-wing changes introduced for 2009 really worked in terms of increasing overtaking?
PL: I think things are getting worse in terms how the overtaking working group, which set out the rules for 2009, intended. Principally this is because the cars are generating much more downforce out of the floors than was ever envisaged. A lot is driven by the opportunity we get from the double diffusers. One of the intentions of the OWG package was that the downforce generated by the floor would be much lower, and this would help overtaking. Firstly, if you have less downforce to begin with, then you lose less in the wake.
Secondly, generating downforce the floor creates a very bad wake for the following car. Downforce now is approaching where it was in 2008 in terms of levels, and at the same time we have slick tyres now against grooved tyres, so it has escalated. What we've agreed for 2011 is to ban double diffusers and reduce the height of the diffuser exit, which will reduce the amount of floor-generated downforce, which will be better for following cars. We are looking at whether even that is sufficient. I think what we've agreed is that we're going in the right direction with OWG.
Q. How do you interpret this ride height situation?
PL: There are two aspects. It's what you can do to a car during a race and what you can do during the parc ferme restrictions. There is quite a clear rule that any adjustment to the suspension during parc ferme would require you to start from the pitlane. This is intended to stop people changing springs and ride heights. Where it's got tricky is that you can design suspension systems that could self-adjust during that period and use a whole host of techniques to make that happen. Previously, if you had a system that could change the ride height with no human intervention, you could say 'I haven't touched it, so it's not changed.' Now, the FIA has clarified that by programming it to change electronically, for example, you are changing it.
Q. How will the FIA check this? Simply by measuring ride height?
PL: No. They will measure it by inspecting the car, determining what equipment is there and examining how it works, which is quite normal process for them. Don't' forget there is also the modification of ride height during a race to consider. There are systems that would allow you to do this, but these are not permissible. That's like an active suspension, but without using external power.
Q. Is the MP4-25 using its tyres differently to the rival cars?
PL: There's nothing I'm aware of. We obviously work very closely with Bridgestone and have our own engineer. He is aware of the tyres and how they're being used by the whole grid and not just us. I think how we approach qualifying with tyres is a big issue and it is an area where maybe we haven't learned as well as some others.
Q. Could we soon see cars covered in all kinds of ducts, following McLaren's inception of the F-duct?
PL: We've expressed openly to the other teams that the technology doesn't lend itself to a huge degree of escalation. An easy way to look at it is that teams have been attempting either legally or illegally to find ways to help wings in order to reduce drag. It's always been a big issue and there are a great deal of tests to stop trickery in that area. If you think that the amount of work that goes into rear wings for that reason is more than on any other area of the car...
We don't worry about front wings or sidepods backing off though, do we? The same is true in the application of this technology. It lends itself to backing off the rear wing, but by the same token, there's very much less to gain by us applying a similar system to other parts of the car. I'm not just saying that as a tactic either. We think we've pretty much reached as much benefit as you can from that technology. We certainly don't envisage that you could double the benefit.