Q & A with Nick Wirth
| | |
| --- | --- |
| By Jonathan Noble | Wednesday, March 31st 2010, 11:05 GMT |
It has been a challenging start to life in Formula 1 for Virgin, which has not only been hit by reliability issues, but has to modify its cars to increase its fuel tank capacity.
Technical director Nick Wirth explained the team's problems to AUTOSPORT.
Q. What is this fuel tank issue about?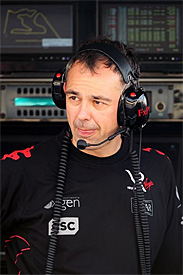 Nick Wirth: We are not here to make the numbers up, we never were here to make the numbers up. We are pushing the boundaries in all the areas. Because of our schedule we had to lock the monocoque down on the 22nd of June, which was 12 days after we got our entry. We had to commit to the services and go into manufacturing.
And there's basically a few main issues which determine how much fuel you have to carry in a race car. First one is sporting regulations. The second thing is the technical regulations. The third thing how much fuel our engine uses. And the fourth thing is the type of fuel you are using. And basically we are pushing the boundaries, but the problem is when the boundaries move it makes life a bit difficult. And three of those boundaries changed for us between when we designed the car and where we are now.
First of all, the sporting regulations were not fixed when we designed this car. The last time they used to go to the grid and do a race like this you could top up on the grid. And so when the sporting regulations became clear that they weren't going to do, we had made that assumption. We had made the assumption that you could do that. Second assumption was the technical regulations, and the technical regulations for us had a change which affected our fuel capacity.
The technical regulations changed in October because they introduced a new test for the seat-back bulkhead. So basically we have a new front impact test where they do those and we had to be sure that we passed that, so we nibbled into the space we had, which affected us.
But the engine fuel consumption, compared to the figures that we designed the car to, compared to what we have now, are the same. None of the information that Cosworth gave at the time compared to what we are using now, they have not changed that at all. It's nothing to do with the information Cosworth provided us.
But the final big one was that we had been led to believe that we were going to have a high density fuel, and that option disappeared at the Brazilian Grand Prix last year, which was the middle of October. So when we designed the car in June, the density of the fuel changed by a very significant factor. There was a different type of fuel available to us via the Cosworth deal, and that changed for us. It changed for everyone, but at each of those points we chose not to, or could not react.
The bottom line is that the engine is under continuous development. Cosworth, up to the homologation point, tried to improve the fuel economy, and we rolled the dice. And until we really saw it under racing conditions in Bahrain what the fuel consumption was, how bad things were, etcetera, etcetera, unfortunately it turned out to be exactly what they said it would be, and when you take all these other factors in, it was just too marginal. It's just that simple. You can say what you want. That's where we are.
Q. You said the supplier has taken full responsibility for this.
NW: The chassis supplier is us. Nothing to do with engine supplier or fuel supplier. I was talking about chassis supplier. What that means is that we are fixing it for the team. We are not charging the team.
Q. So are you also picking up the tab for the new monocoque?
NW: Yeah. It's our responsibility to provide cars that can finish a grand prix. It's down to us.
Q. So this only came to light during the race in Bahrain?
NW: We went in knowing, but you have to see it.
Q. And there's a fuel pick-up problem that's related to it?
NW: No, that's a another thing. In our efforts to try and maximise what fuel we had available to us we've had some issues. We are trying to pick up every single drop. Unfortunately one of those things went wrong, so we had to go back to an older spec and this meant we had to carry a lot of extra fuel. So we've got problem after problem. It's a new team. Well, not as much a new team, but a new manufacturer to Formula 1.
It's us. It's not a team issue, it's us. We are not doing a very good job at the moment, particularly in qualifying, of picking up all the fuel. We are at liberty to carry on doing that. That doesn't affect the volume of fuel. But what we are saying is that even if we could pick up every last drop, which we can't at the moment, we've got an issue.
Q. Can you wind the things down to finish?
NW: We can't do that, because all of our calculations were done on the leanest mode.
Q. So you can't finish a race until the problem is solved?
NW: There are techniques that we learned from sportscars, but that's not racing. We want to race.
Q. So for Turkey you'll have new pieces?
NW: Barcelona. We are working on it.
Q. What about the hydraulic issues?
NW: No, hydraulics are fine. We haven't had any hydraulic issues [in Australia]. In Bahrain we had one specific issue and we haven't had any problems. Zero.
Q. Is it frustrating that the car seems to have potential pace-wise?
NW: Yeah. We could have qualified ahead of our main competitor if we not for the fuel load. That's pretty frustrating. But that's why I'm actually quite calm.
Q. So the hydraulics are fine?
NW: For the avoidance of doubt, the fundamental problem that we've had with hydraulics over the winter we cured by Bahrain. And the we had a new problem in Bahrain, where a part was incorrectly manufactured and it was on Luca's car, and we kept blowing an oil ring out.
And only when got it back to the UK we could examine it properly and found the part was incorrectly made and it's been fixed. In Bahrain we had an specific problem which is not the same as anything over the winter, and in Australia we've had zero problems with hydraulics and we don't expect any problems with hydraulics.
Q. How many laps under the safety car would you need to finish?
NW: We could do, limp home, with none. It wouldn't be pretty but we could do it.
Q. Is Australia particularly hard on fuel?
NW: Yes. This one, Barcelona, Spa. Spa is terrible, lots of drag.
Q. And Malaysia?
NW: It's better. Clearly, the problem is, particularly for a new team... If there's a variable, you normally give yourself a margin. But on this car you go as wide as you can, you go as high as you can, and trust me, we have. It gets to a point where you start going longer and longer and longer, and for us, the issue is weight. Honestly it's just about weight, because we have not got the budget to make super expensive, super light-weight stuff. We don't have the experience either.
Next year with the same budget we ought to do a better job. For example, we did the best job we could on the uprights, but we know we are heavy on the uprights, but for the team is great because the uprights last a year. You don't use them for 200kms and then throw them away. They are sportscar uprights.
It's easy to have hindsight, but when one of these things came through, like the sporting regulations change, and we were face with difficult things, and the hardest one of all was the fuel. When that fuel density came through it was three weeks before our crash test. So it's like 'what do we do? Do we put ourselves on the back foot now? Could we get away with it?'. Anyway, it is what it is.
Q. But what changed on the fuel density side? Was it purely a change of supplier? What happened to your original supplier?
NW: I don't want to go there.
Q. Is this supplier still active in the paddock?
NW: I don't want to go there. It was a package and it's not available now. I just have to deal with what affects me.