Wirth to pay for Virgin car changes
| | |
| --- | --- |
| By Jonathan Noble and Pablo Elizalde | Wednesday, March 31st 2010, 11:01 GMT |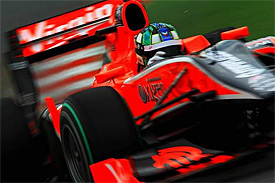 Virgin's technical director Nick Wirth says his Wirth Research company will pay for the changes needed to solve the fuel consumption issues suffered by the team.
Virgin has been forced to work to increase the size of its cars' fuel tanks after it discovered that the capacity is not enough to reach the end of the races comfortably.
Wirth Research is working on new monocoques that are expected to be introduced once the European season kicks off in Barcelona. That means the team still has to race in Malaysia and China with the problem.
Wirth said it was down to his company to supply Virgin with a car that can reach the end, so it will not be charging the team for the new parts.
"The chassis supplier is us. Nothing to do with engine supplier or fuel supplier. What that means is that we are fixing it for the team. We are not charging the team," Wirth told AUTOSPORT.
"It's our responsibility to provide cars that can finish a grand prix. It's down to us."
Virgin was also hindered by fuel pick-up issues at the Australian Grand Prix, something that meant the team had to go out in qualifying with a lot more fuel than usually required.
Wirth made it clear the problems were not related to the team.
"It's us. It's not a team issue, it's us," Wirth added. "We are not doing a very good job at the moment, particularly in qualifying, of picking up all the fuel.
"We are at liberty to carry on doing that [using heavy fuel loads]. That doesn't affect the volume of fuel. But what we are saying is that even if we could pick up every last drop, which we can't at the moment, we've got an issue."
He said Virgin could make it to the end of races using sportscars techniques, but admitted he was not willing to do it.
"There are techniques that we learned from sportscars, but that's not racing. We want to race," he said.