Hamilton 'understands' team's strategy
| | |
| --- | --- |
| By Matt Beer | Monday, March 29th 2010, 20:44 GMT |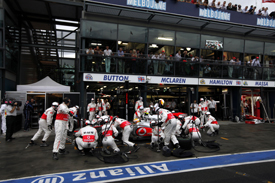 Lewis Hamilton says he now understands why McLaren chose to bring him in for a mid-race tyre change in the Australian Grand Prix - a strategy that left him angry at the end of the race.
The former champion had been pushing Renault's Robert Kubica for second when the team decided he should follow the example of fellow frontrunners Mark Webber and Nico Rosberg and take on fresh tyres rather than making the rubber he had used since the track dried last until the flag.
That dropped Hamilton to fifth, as leaders Jenson Button, Kubica, Felipe Massa and Fernando Alonso all decided not to pit. Hamilton caught the battle for second but was unable to overtake, and eventually fell to sixth after being hit by Webber.
Hamilton was critical of the pitstop decision both over the radio during the race and to the media afterwards, but in an interview published on his personal website today, he said he understood McLaren's theory.
"The team has explained to me their reasoning behind the second pitstop, and I can understand what they were trying to do intrying to cover both Mark and Nico for later in the race," he said.
"We are still learning about this year's tyres and the degradation, and perhaps we over-estimated the wear that the frontrunners were expecting to suffer. It's something you learn from, and we'll use that knowledge to help us improve throughout this season."
The Briton added that he had no qualms about seeing his new team-mate Button go on to take McLaren's first victory of 2010.
"As soon as Jenson finished in the press conference, I went down to see him and I gave him a big hug," said Hamilton. "You can't take anything away from his drive in Australia - it was faultless, and he thoroughly deserved the victory.
"And every win is special: you always love to win, but if it can't be for me, then I want it to be my team-mate.
"It's good to see the team celebrating Jenson's win - victories are very important for our team because they not only bring everyone closer together, but they also help validate the work we're doing and the approach we're taking. After a difficult 2009 season and our regrouping over the winter, I think the win in Australia will make the whole team a lot stronger."