Q & A with Lewis Hamilton
| | |
| --- | --- |
| By Jonathan Noble | Saturday, March 27th 2010, 12:13 GMT |
Lewis Hamilton has had a tough Australian Grand Prix weekend so far, with his highly-publicised brush with traffic police last night before following by a disastrous qualifying session in which he only managed 11th on the grid - while his McLaren team-mate Jenson Button took fourth.
After qualifying AUTOSPORT was there to hear from Hamilton as he explained the events of the last 24 hours to the gathered media.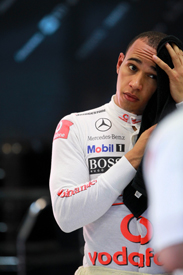 Q. Are you able to talk a little about the events of last night?
Lewis Hamilton: I was just being a bit silly I guess. I don't think you need any explanation. I was on my own leaving the track and I just went around the corner, switched the tyres a little bit, and unfortunately there was a cop standing there. It was a little bit silly of me - but it is one of those things you learn from. It wasn't a good experience, but you move forward.
Q. Do you feel hard done by?
LH: No.
Q. Martin Whitmarsh said on the radio that you were 'fragile' and 'distracted' because of what happened last night. Is that the case?
LH: I wasn't. Today it definitely hasn't been easy, but I've had great support. The incredible thing in this team is that you have incredible support from each and everyone. I didn't walk in here this morning and people turned their backs on me – I had support from Martin and every individual in the team, and that is the great thing about being part of the team – we support each other through thick and thin. I put my hands up, I made a mistake and they supported me through it.
I got in the car this morning feeling quite good to be honest, and the car was not terrible but it wasn't perfect. I was generally feeling quite good going into qualifying. Q1 felt great. I lost a little bit of time in the last sector – otherwise it felt quite good. In Q2 I just didn't have grip for some reason and struggled with the rear tyres.
Q. Have you spoken to your dad, and did he give you a b******ing?
LH: No. I haven't spoken to him.
Q. Normally your dad has been around, or Adam [Costanzo, former trainer]. Is it more difficult for you without the normal guys around you?
LH: No. The reason it is not strange is because I have the same people there to support me, who would be there even if Anthony was still here. Even if my dad was still here, I have the whole group behind me to help me get through it. It has been the same this weekend.
Q. You said it had been a tough day. Did you sleep well last night, did you manage to get to bed in good time?
LH: Yeah, I slept fine. I had a good meal, and think I got to bed at 12.30am – but obviously our timetable is a bit later than normal.
Q. Is this the price you have to pay for being a former world champion, and a sporting icon?
LH: Possibly, yeah. But that is the responsibility you take on. I was just at fault there. I've got a responsibility for the team, and my fans, and my family. And I didn't particularly hold up to that last night. We all make mistakes and, like I said, I apologise.
Q. How important is it to get points tomorrow, knowing that Red Bull and Ferrari are at the front of the field?
LH: It is very important. Clearly Jenson had a great qualifying session, he did a great job, but for me, as always, points are key for the constructors' championship and for the drivers'. I will do my utmost to score as many points as I can tomorrow, and tomorrow is going to be a tricky day with the start of the race. Possibly safety cars and the weather.
I just need to make sure I prepare in the best way I can tonight, and hopefully the car will feel a lot better with heavier fuel and we should be able to have a good race.
Q. What is possible from where you are, given that there wasn't much overtaking in the last race?
LH: If I base it on the last race, then who knows? I was close enough to overtake in the last race, so it is not impossible. If I base it on the previous years, then it is possible – it really depends on the pace, what tyres we start on and how the race holds. I just need to make sure I am on top form.
Q. Do you believe after what has gone on, that your mind will be on your job totally tomorrow in the race?
LH: I think so. Like I said today, when I arrived I had to make sure I arrived here without anything hanging over my head. It wasn't easy. But as I said, the support of everyone in the team has been tremendous. I really did get in the car feeling quite relaxed and I could go out and enjoy the session. I did enjoy Q1, I just didn't enjoy Q2. I will make sure I have a good meal tonight, a good rest and I feel tomorrow we can come back strong.