Ecclestone: No panic over F1 show
| | |
| --- | --- |
| By Jonathan Noble | Tuesday, March 16th 2010, 09:11 GMT |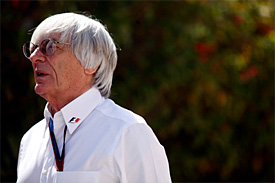 Formula 1 supremo Bernie Ecclestone insists there is no need for panic about the state of the sport - despite criticism about the boring season opener in Bahrain.
Mercedes GP CEO Nick Fry led the calls from a number of team principals after the event for F1 to 'react' to what had been an unexciting first race of the season – as the sport hopes to capitalise on the huge interest caused by its stellar line-up this year.
But Ecclestone has urged for a more considered response – and reckons the sport's stakeholders should wait until after the first four flyaways of the season before deciding if urgent rules changes are needed.
"There is no panic, no crisis for F1," said Ecclestone in the wake of the controversy caused by the far from enthralling Bahrain GP. "I think there is nothing we can do immediately and we should not just knee-jerk into changes.
"We are involved in four flyaway races just now so let's see how the teams adapt and look at it again after China."
Ecclestone believes that Bahrain's chance of delivering excitement may have been hit by the fact that teams were getting themselves used to new rules.
"The first race with new regulations was always going to be a learning curve for them all," he explained. "Now they know they can make improvements and be a bit bolder and we will get more action."
A lot of the comments from team principals after the race suggested the sport should focus on making changes to the tyre regulations – perhaps by forcing drivers to make two mandatory stops during a grand prix.
However, Ecclestone thinks other tyres rules should be looked at – including forcing teams to have available just one soft compound tyre for the race.
"Some might wonder why the teams have options on tyres at all," he said. "Maybe if we only gave them a soft compound they would have to stop twice, but I am not sure that they will vote unanimously for a mandatory two-stop race which Red Bull proposed.
"It is basically the same problem we have had for the last few years about downforce and cars not being able to get close to the one in front to create more overtaking.
"The teams know this but they won't do anything about it because each team looks after its own interests: trying to win.
"I had a meeting with the teams and tried to explain to them what our business is about - racing and entertaining the public. It's not about playing with computers and going fast over one lap."