Briatore rules out returning to F1
| | |
| --- | --- |
| By Michele Lostia and Pablo Elizalde | Friday, March 12th 2010, 11:51 GMT |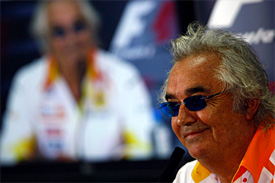 Former Renault boss Flavio Briatore says he is 100 per cent sure that he will never return to Formula 1.
The Italian left his post following the race-fixing controversy last year, and although he won a court action to overrule the FIA ban imposed on him, Briatore says he has no intention to return to the sport.
Speaking to Italian newspaper Gazzetta dello Sport, Briatore said he had no regrets about his stint in F1.
"I rule that out 100%," Briatore said of a return to Formula 1. "I will watch the race on TV and will look for the faces of the many people I know. I remain affectionate to F1, even though it would have been fairer had I left it at the end of 2006, after Alonso's second title.
"I had already won all my challenges and I was beginning to feel the will to dedicate myself to other things. Then, in 2008, Alonso came back after a difficult season at McLaren and because of our friendship, I preferred to stay by his side.
"F1 has given me a lot in popularity, satisfactions, and acquaintances: I don't regret anything."
The Italian insisted the court decision to overrule his ban was the right one and a relief to him.
"That was only right, I say," he said. "I had spent two months when I had been treated like a criminal, it was a bitter pill, only I know what I had felt inside. Then came the relief, even though in a couple of months there will be the appeal lodged by the Federation.
"I'm calm, I did my duty as chief commander of a ship that was risking sinking, by resigning. I took moral responsibility for the scandal, but the real story is yet to be written. However, the verdict has given me freedom and pride, and that's fine."