Gascoyne: Reliability key to early points
| | |
| --- | --- |
| By Jonathan Noble | Monday, March 8th 2010, 12:31 GMT |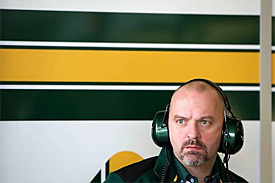 Lotus technical chief Mike Gascoyne thinks reliability will be key in giving his team a chance of scoring points in the early races of the season - even though the car is lacking pace.
Formula 1's new teams have so far not delivered the kind of speed on track that will be needed to challenge the established outfits - but that has not left Gascoyne downbeat about the situation.
In fact, Gascoyne believes that Lotus' form has been hit by the fact his outfit has been chasing reliability from the outset – as he is well aware that just getting to the finish of grands prix early in the year could deliver some early points.
"With the best will in the world, none of the new teams are going to score points on merit in the first four races," Gascoyne told AUTOSPORT ahead of the season opener in Bahrain. "The only way you are ever going to score points is to finish.
"Everyone knows that in the first four races, there is always going to be a good opportunity if you finish - so that has to be the number one aim.
"That's how we approached it because if you put new aero bits on it, you can make it quicker. If you're not finishing you're not going to get anything. The aim was always to do the first four races and have a car that has a chance of finishing."
Although the Lotus T127 suffered a few reliability problems in the last test in Barcelona, Gascoyne thinks the team is in good shape considering how little time it has had to get ready for the move in F1.
"[It was] nothing major, just normal stuff, to be honest," he said about the stoppages in Barcelona.
"Nothing that we are worried about. We have far exceeded the mileage that we thought we would do and, starting the project five months ago, the aim was to have a neat simple car that would be reliable for the first four races. It was a pretty tall order, and we've achieved it probably better than we expected we could."
Lotus is planning a major aerodynamic upgrade in time for the start of the European season in Spain – with Gascoyne expecting big leaps forward in pace.
"Normally you are chipping away and finding tenths, but now we are looking at updates that will bring us a second," he said.
"You have to bear in mind that when we were finalising the design of this car, doing the crash structure and radiator inlets, it was still a month away from going in a wind tunnel. The basic radiator configuration had to be designed with no cooling figures, and no data.
"People have said the bodywork at the rear is a bit chunky, and it is – because when we were deciding on cooling figures we didn't have any engine data. And when we took the route that we want to finish the first few races - we had to make sure that it cools, and does all the right things, so we had to do it like that."