Tarquini tops final Curitiba practice
| | |
| --- | --- |
| By Steven English | Saturday, March 6th 2010, 16:23 GMT |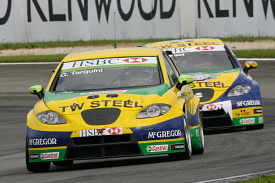 Gabriele Tarquini set the fastest time of the final World Touring Car free practice session at Curitiba.
The reigning world champion stopped home favourite Augusto Farfus's streak of topping every session so far this weekend by taking his SEAT round the Brazilian track in 1m24.664s.
Farfus and BMW team-mate Andy Priaulx were close behind, both setting 1m24.7s, but neither could improve their time in the closing minutes to upstage Tarquini.
Chevrolets lined up to fill fourth to sixth places with Yvan Muller, Rob Huff and Alain Menu covered by just 0.1s.
The SEATs of Tom Coronel, Jordi Gene and Tiago Monteiro followed, with Franz Engstler rounding out the top 10 as the quickest independent in his BMW.
Norbert Michelisz was the top rookie but was unable to repeat his form of the day's earlier session and ended 11th in his diesel SEAT, ahead of fellow rookies Mehdi Bennani (BMW) Michel Nykjaer (SEAT).
Harry Vaulkard just made it out for five laps at the end of the session, following his heavy accident at the end of first practice.
Pos Driver                 Car           Time          Gap
 1. Gabriele Tarquini      SEAT          1m24.664s
 2. Augusto Farfus         BMW           1m24.713s  +0.049
 3. Andy Priaulx           BMW           1m24.798s  +0.134
 4. Yvan Muller            Chevrolet     1m24.948s  +0.284
 5. Rob Huff               Chevrolet     1m24.967s  +0.303
 6. Alain Menu             Chevrolet     1m25.069s  +0.405
 7. Tom Coronel            SEAT          1m25.198s  +0.534
 8. Jordi Gene             SEAT          1m25.228s  +0.564
 9. Tiago Monteiro         SEAT          1m25.383s  +0.719
10. Franz Engstler         BMW           1m25.539s  +0.875
11. Norbert Michelisz      SEAT          1m25.572s  +0.908
12. Mehdi Bennani          BMW           1m25.859s  +1.195
13. Michel Nykjaer         SEAT          1m25.918s  +1.254
14. Sergio Hernandez       BMW           1m26.124s  +1.460
15. Darryl O'Young         Chevrolet     1m26.234s  +1.570
16. Stefano D'Aste         BMW           1m26.314s  +1.650
17. Fredy Barth            SEAT          1m26.517s  +1.853
18. Harry Vaulkhard        Chevrolet     1m28.202s  +3.538
19. Andrei Romanov         BMW           1m28.886s  +4.222