Q & A with Mikko Hirvonen
| | |
| --- | --- |
| By David Evans | Saturday, March 6th 2010, 06:49 GMT |
After what he has described as his toughest ever day of running first on the road, Ford's Mikko Hirvonen explained his nightmare Rally Mexico day one to AUTOSPORT.
Q. You said you thought day one would have the cleanest roads. It didn't really turn out that way, did it?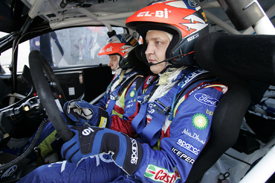 Mikko Hirvonen: It just wasn't clean at all. In the recce we were breaking the surface of the road a little bit and that was bringing some gravel to the surface, but nothing like we expected. It was very slippery. On the last big stage [SS3/7], the first 15 kilometres of that was the only part that I can say was very clean and good for me, but we still lost seven seconds to Sebastien [Loeb].
Q. What's made the difference? Does the Citroen have something special here?
MH: The Citroen is always very good here, always faster than we have been. There must be something.
Q. Is it something with the engine, maybe they're coping with the high-altitude better than the Fords?
MH: The engines are different, and they have a six-speed gearbox which could help. Their engine revs a lot higher than ours and ours is based more on torque. It's hard to say, if you think how much we lost in seconds per kilometre on the first day, they would need something like 50bhp more than us - so it's definitely not all about the engine.
Q. What's possible tomorrow? Can you still win?
MH: That's going to be tricky, If we were somewhere else, Sardinia or Greece, I would be more confident. I'm sure we can get closer, but it's going to be difficult.
Q. Who's in the strongest position?
MH: Sebastien [Loeb]. Who else? It's been a difficult day. I didn't have the best confidence to really have the big fighting feeling. But straight away when I started to push we were having massive moments. It didn't work well. We never had a good rhythm.
It could be part of road sweeping, it's so slippery, but every time we pushed harder we were nearly going off the road. If you don't have the confidence, it's not good here because if you hesitate in the corner, you don't have the power to pull you through, because of the altitude.
Q. You talked about a really big moment on SS2, did that knock your confidence as well?
MH: A bit, but I tried again to push in the afternoon and it was the same thing. We hit more rocks and we were lucky not to get a puncture.
Q. Was that the hardest day you've ever had running first on the road?
MH: Yes it was. I still think I did some rallies in Sardinia and Greece, where I was first on the road, and we did pretty well against everybody else, but now we are nowhere.
Q. With the benefit of hindsight, would you have changed the car more?
MH: No. Not really. We haven't done anything more to the car for today. We're just going to go out and see what happens running sixth on the road.
Q. And what about Jari-Matti Latvala, could he have done more to help?
MH: No, not really. We were all so slow, it didn't make any difference!