Atkinson keen to support Block
| | |
| --- | --- |
| By David Evans | Thursday, February 18th 2010, 13:59 GMT |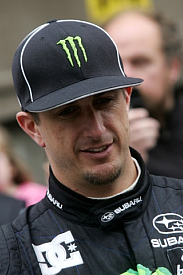 Former Subaru World Rally driver Chris Atkinson thinks he can help American rally ace Ken Block with his WRC programme, which starts on Rally Mexico next month.
Atkinson had been expected to be announced as the driver of a sister Ford Focus RS WRC 08 for the Monster World Rally Team, alongside the American, until the deal fell through late last year.
Atkinson says he will do everything he can to help the 42-year-old Block through the current season - while retaining hopes of joining the team next year.
Atkinson said: "I think I can offer some help to Ken. Ken's quite good at listening and learning. He really takes things in. Some drivers just don't, but Ken accepts he's got to learn and that's going to be one of his big strengths.
On the subject of joining Block next season, the Australian said: "I think so. They're a long way away from next year and it's probably the furthest thing from their mind at the moment, but there were discussions about that and I still think they want to make it into a bigger team that can make it onto the podium.
"There are only a few drivers who can do that right now, but I'm confident we can make it to the podium and do it regularly."