Trulli calls for patience with Lotus
| | |
| --- | --- |
| By Steven English and Jonathan Noble | Friday, February 12th 2010, 19:57 GMT |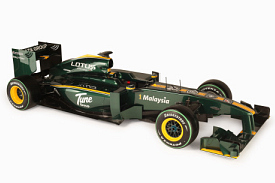 Jarno Trulli has called for patience with the new Lotus Formula 1 team, as it prepares for to make its debut this year.
Speaking at the launch of the new car in London today, Trulli explained the challenges the team has already overcome to get to this point, and says his expectations for the year are modest.
"We have to be patient. For the first year we have to be reliable, decent and showing good progress. We cannot believe that we can join the club and be on top straight away - that is unrealistic," Trulli said.
"This was a big achievement, being here, and getting the car ready for the shakedown a few days ago. We will be heading to Bahrain and we'll try to make it to the finish with both cars.
"We want to start decent and then grow up. By the end of the season if we are fighting with the middle of the grid, it will be great."
Lotus is scheduled to join the second pre-season test at Jerez next week. With such a short programme, Trulli is expecting to have to overcome problems along the way but is focused on scoring the team's first point.
"We know it is not going to be easy and we are running out of time," he said. "I have great respect for the people who have been working on this project, but on the other hand for this year we have to be very realistic. We know that we are heading to Bahrain to deal with a lot of troubles and solve the problems.
"The first point will be especially emotional for everyone. It is only a point, but it will be extremely appreciated however it comes. We have to take things step by step. I know I have to be patient and I know it is a long term project, as is my contract."