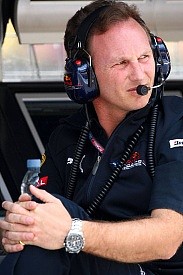 Red Bull Racing emerged in 2009 as a serious contender for the world championship, and it is hoping to deliver on that target in 2010.
With keen eyes looking at the new RB6 that was unveiled in Jerez on Wednesday, team principal Christian Horner spoke to the media about his hopes for the year, engine disparity and the development of his drivers.
Q. The expectations are very high after last year. How do you think you will meet those expectations?
Christian Horner: I think that 2009 was a massive year for the team. We made a huge step forward. I think the group matured very well. You have to remember that Red Bull Racing is still a relatively young team, so I think the lessons that we learned in 2009, with the performance of the car and how that evolved during the season as well, with the stability throughout the winter, we are in good shape for 2010.
Our target is obviously to win the championship, but we totally respect the quality of the opponents we have. We have set ourselves very aggressive targets.
Q. Will this year be even harder to win than last year? In 2009 you were racing against one team, whereas this season might be a bit different?
CH: I think you are going to have four teams that are race-winning contenders this season. McLaren and Ferrari look like they have come up with good cars, and for sure the Mercedes GP team is going to be competitive with its driver line-up. But we are quietly confident we've made good progress during the winter. We've kept our heads down. We've kept working on the concept that served us well last year - and Adrian and his guys have come up with another very good car.
We go into the year with continuity with the drivers as well. Sebastian [Vettel] matured very well in 2009 and got stronger and stronger throughout the season, and Mark [Webber] is now back to full fitness - which compares to 12 months ago, when he was carrying a nasty injury.
Q. Where are you now with the Resource Restriction Agreement (RRA), and how does that affect Red Bull Racing?
CH: The RRA is an interesting and admirable concept. For Red Bull Racing, we are not a team of the size of the likes of Ferrari, McLaren or probably even Mercedes GP. So for us, the effect is fairly minimal because we have effectively run on the budget line was the prescribed in the discussions when the Concorde Agreement was renewed. Inevitably there are restrictions - and we will have less people at each grand prix this year through the restriction of 45 working personnel.
The great thing about the RRA is that it forces the teams to become more efficient, but it also creates a more level playing field for an independent team such as ourselves which enables us to compete on a more even hand against the resources that a Ferrari or McLaren have at their disposal.
Q. Could that be an advantage for you then?
CH: In the end, we believe it is a more level playing field. I think, for example, when the standard tyre came in, and the standard ECU, and the ban on testing - all of those things helped the independents. We are one of the bigger independents but it has enabled us to be competitive, as we demonstrated last year.
Q. What are the team's objectives for the next four days?
CH: The principal objectives here are to get mileage on the car. To understand a little about the RB6, understand some of the fuel loads, the smaller front tyres, and how they work. So it is building up a knowledge bank. And then there is development through the next couple of weeks before the first race in Bahrain.
Q. What do you think of the idea of having Kimi Raikkonen in the team next year?
CH: I think it is an interesting idea. Inevitably people will write and speculate about it, but what I can tell you is that Kimi's focus is very much on rallying. There has been no discussion about F1. We are very focused on our current drivers. Kimi's heart seems to be in rallying. He had a lot of desire to go there, and it is going to be an interesting year for him.
Q. Would you like to have him in the team next year?
CH: We are very happy with our current driver line-up. Next year is a long way away, but we will focus on our current drivers.
Q. Last year the performance and reliability of the Renault engine played a role in the championship battle. Are you happy that the Renault is good enough on both those areas this year?
CH: The problem with the engine freeze is that you freeze in an advantage. I think the Renault has some good aspects and Renault, when the freeze came, took it a bit more literally than some of the other manufacturers. I think there is disparity currently within engine performance. On a fair and equitable basis, we rely on the governing body to ensure that you don't have large disparity between engines.
Because the problem is that as the chassis converge in performance, the engines will become a key performance differentiator, and the idea of freezing the engine was largely to eliminate the performance differential between the engines. The costs of the engines have come down dramatically, especially for the independent teams, but with the formula being as it is, it is important that an advantage is not frozen in.
Q. So with a performance difference between the engines, would you like to see all the engines become the same?
CH: I think the problem is if you don't allow some development, then you freeze in an advantage for one team or a disadvantage for another. So there has to be a balancing of that, otherwise we will end up with Mercedes-powered cars winning all the races - which I think is not good for F1. And other manufacturers may choose to leave F1 off of the back of that. The engine isn't supposed to be a key performance differentiator, and therefore hopefully the ruling body will balance out somewhat the differences there at the moment.
Q. So will there be a balancing of the Renault engine this season, and would you like to see F1 go down the NASCAR route?
CH: The FIA has all the facts and it is for it to deal with. I know that Renault has been working hard over the winter. There is a renewed enthusiasm and commitment within Viry-Chatillon. The engine has some very strong attributes. We had some reasonable choice [of engine] for this year but we elected to remain with Renault for the 2010 season.
Q. How similar is the car here to the car that we will see in Bahrain?
CH: I think, like all teams, we have quite an aggressive development programme. Inevitably there is going to be development on the car, so we have components that we will introduce in the next couple of tests.
Q. Do you feel the rules are clear for everyone this year, or do you feel some teams may have pushed the limits of the rule books with their cars and double diffusers?
CH: I hope not. The diffuser last year took a lot of time and attention, and probably also cost us the championship. That regulation was clarified and you have seen some very aggressive interpretations of that rule now. Indeed the teams that pioneered it pushed very hard to get it eliminated for 2011. So, it is here for this year, and gone for next year.
Q. How long was the discussion within the team about the pre-season testing programme, and skipping Valencia?
CH: It was a pretty short discussion to be honest with you. When we played out the plans for the build of RB6, which was way back in August time, we elected for it at that point with the continuity of the drivers. It is something that Adrian has always pushed for, the maximum R&D time, and we basically felt there was more to be gained off track than pushing for an early release on track.
Talking to Adrian yesterday, with this car build being the most seamless as it was assembled in just five days, he was joking that next year he will take a bit more time before he releases it again! So it was something we elected a long time ago, and with continuity of drivers that enabled us to do that.
Q. Last year there were a few operational matters that cost you points, like unsafe releases from the pits. Is that an area you have been looking into?
CH: Yes. There were a couple of cheap points that were given away last year and a few marginal decisions as well, but we still enjoyed 4 1-2 finishes last year, six grand prix wins and we had 21 trophies in our cabinet. So it was a very successful for the team, but you can always improve and you can always do better.
The pit crew have been working incredibly hard over the winter. We have approached pit stops a bit more scientifically in the way that we have allocated people different tasks, and I think you will see some very, very fast pit stops this year. You can always learn, and every team in the pit lane can, but continuity is a key factor and there were key lessons learned last year.
Access even more news on Autosport.
Register for free to increase your monthly limit from 15 to 25 stories - or subscribe today and get unlimited access.
Get unlimited news
Full access to our news and in-depth Autosport Plus features - all in an ad-free enviroment.
Subscribe to Autosport Plus
Get 10 free extra stories
A quick upgrade and you'll boost your monthly news limit instantly - for free.
Register for free