Wilson: Leaving Coyne was tough
| | |
| --- | --- |
| By Matt Beer | Wednesday, February 3rd 2010, 11:25 GMT |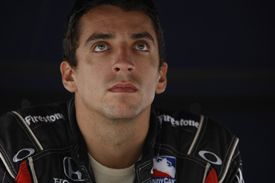 Justin Wilson has admitted it was a difficult decision to leave Dale Coyne Racing after his stunning underdog achievements with the squad last year, but is convinced that joining Dreyer & Reinbold Racing is the best move for his future.
With Wilson on board Coyne's team took its first IndyCar victory - after 24 years of trying - at Watkins Glen last year. Although Dreyer & Reinbold has not won since its shock debut success in the 2000 season-opener, Wilson says the efforts it has made to ramp up its facilities over the winter will result in a big step forward in 2010.
"I came about two weeks ago and had a look around the workshop," said Wilson. "I was so impressed with what I saw and what was going on. It just felt like the right thing for me to do.
"It's the right point in my career. I'm just excited at the potential of this team and the way they go about their business.
"It was a pretty tough call to leave Dale and move on with my career. That's not an easy decision. I just got to thank Dale and Gail [Coyne] for everything they've done. It was a great year. I have really fond memories. I've spoken to Dale a few times and we still get along really well, which is nice. I've got a lot of admiration for him.
"But it all came about so quickly. Two and a half weeks ago I got a call from [DRR owners] Robbie [Buhl] and from Dennis [Reinbold], and things just snowballed and happened so quick. It was just a great opportunity. And I feel like this is the direction to go."
Buhl is confident that Dreyer & Reinbold is now ready to become a leading contender at every race with Wilson on board.
"The more I thought about it, in the 11 years at Dreyer & Reinbold Racing, I think this is probably one of the biggest announcements or steps that we've ever made as a race team with going into this 2010 season with having very capable guys in Justin and Mike [Conway], and being able to be competitive day-in and day-out," said Buhl.
"I think this is really going to transition Dreyer & Reinbold Racing to a place that we've been striving to be. So we're real excited.
"In this business, as you grow as a race entity, sure, you can have your flashes of brilliance and you have big highs and lows. But how you really grow and strive is you want to be consistently in the game, week in and week out. That is the challenge.
"And with having the capabilities of Mike and Justin, that puts us in that position to go into every weekend with that mindset."
In recent years Dreyer & Reinbold has juggled its driver line-ups and occasionally run additional cars - expanding to four entries for Indianapolis last year. Reinbold said the current intention was to keep Wilson and Conway as its full season line-up, but did not rule out adding extra cars alongside them.
"If a good situation comes along as a third full-time car, maybe we'll take a look at that," he said. "If a good situation comes along as an additional car at Indy, we'll take a look at that. We want to do what makes sense for us, and we are looking at some other options right now."