Ferrari aims to benefit from Shell link
| | |
| --- | --- |
| By Dieter Rencken and Pablo Elizalde | Thursday, January 28th 2010, 12:07 GMT |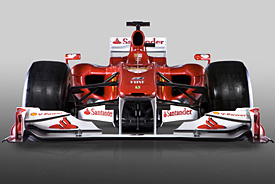 Ferrari's engine chief Luca Marmorini is confident the Italian squad will benefit from its close relationship with fuel supplier Shell this year.
Formula 1 has banned refuelling from the start this season and saving fuel will be a critical point in achieving good results.
Marmorini, speaking during the launch of the new F10 car, believes Ferrari's close ties with partner Shell will help the Maranello outfit extract the maximum performance of the car while saving as much fuel as possible.
"The 2010 season is most interesting," said Marmorini. "It's a new challenge, new if you consider the last 15 years. The ban on refuelling has made the fuel consumption parameter very important in performance terms. If you consume less it means the car is more lightweight - so the laptime performance is better.
"We've worked hard on that, not only in our team, and consumption optimisation is team work and it involves players who are interested in the engine management. It involves electronic people and the drivers as well.
"The fact that we work under the same roof, well we have a major advantage for optimising fuel consumption. A major contribution comes from this aspect. This is due to important partners like Shell that has allowed us to take a step ahead.
"Together with Shell we have tried to optimise the lubricants and fuel so that we can have an advantage that makes the F10 a winning car."
The Italian also said Ferrari has carried out few changes to its power unit given the development freeze.
"The engine is frozen which means that the main components can not be developed, so the possibility of developing performance directly is fairly limited," he said. "So we have redesigned the exhaust system, the F10 exhaust system is fairly unconventional.
"We have modified accessories because the engine will no longer have the KERS as it had in 2009, and we have invested in materials and processes to cut the engine cost."
He added: "We've never forgotten reliability. Reliability can never be forgotten can never be forgotten in engine development activity. In respect to that we have optimised and updated our bench simulation techniques. They are increasingly complex and getting closer and closer to the actual reality on the track during the season."