Teixeira wants A1GP link for Campos
| | |
| --- | --- |
| By Matt Beer | Wednesday, January 27th 2010, 10:27 GMT |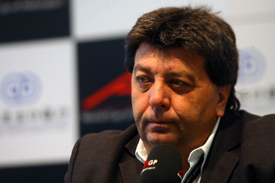 A1GP boss Tony Teixeira says he intends to use the Campos Meta team as A1GP's Formula 1 arm if he successfully completes a deal to buy into the outfit.
AUTOSPORT revealed earlier this month that Teixeira was a leading candidate to either take a major share in or take over Adrian Campos's start-up F1 team, which is seeking new investment to ensure it makes it onto the 2010 grid.
Teixeira has previously stated his ambition to have an F1 squad that the top drivers from A1GP could graduate into. Although his nation versus nation series has had to call off the first half of its fifth season due to financial problems, Teixeira hopes to restart A1GP later this year.
"There's more than one group talking to Campos and for us it has got to be part of an A1 deal," he told Reuters. "It's all for A1. My ambition is to bring A1 into F1."
He said he was open to either a partnership with Campos or a fully-fledged buy-out: "It's whatever suits us best."
Campos's head of strategy Daniel Eisen told the Associated Press that the team might not test its Dallara-built car prior to the season-opener in Bahrain, but Teixeira said he had assured that the team would be ready sooner.
"I am aware of that report but that's not what the team principal tells me," he said. "They may make the second test but definitely the third and they will make the race. The second test is the target."