No number one driver at Mercedes
| | |
| --- | --- |
| By Jonathan Noble | Monday, January 25th 2010, 16:08 GMT |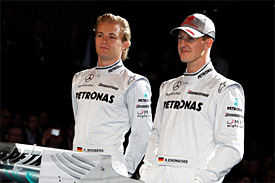 Ross Brawn insists that there will be no number one driver at Mercedes GP this year - despite the outfit having convinced Michael Schumacher to return to Formula 1.
Although Schumacher has enjoyed number one status while working under Brawn in previous spells at Benetton and Ferrari, the seven-time champion has been told he will be treated totally equally to team-mate Nico Rosberg.
Speaking at the launch of the Mercedes GP 2010 colour scheme in Stuttgart on Monday, Brawn said that the only factor that would change the parity at his team would be if one driver started putting together a serious title challenge.
"I would dispute this title of the number one driver - the number one driver is the fastest one," explained Brawn. "Whoever is the fastest driver and winning the most races, you can argue is the number one driver. We will give maximum support to both drivers.
"Of course if a championship starts to develop, where one driver has a greater chance of winning the championship, or it becomes numerically possible only for that driver to win the championship, then there may be different priorities.
"It will be absolutely evenly split and I think we demonstrated this past season that we gave both Jenson [Button] and Rubens [Barrichello] absolute equal support.
"That will be the case this year and it is there for both drivers to establish their positions, beat each other, compete with each other but do it in the correct fashion in a constructive way. That will be the strength of the team to achieve that. We don't have a number one driver and we don't intend to have a number one driver."
Brawn said that the move by Michael Schumacher to request the number three originally pencilled in for Nico Rosberg was down to simple superstition – and nothing to do with him trying to stamp his authority at the team.
Furthermore, Brawn said that both drivers had been consulted about their race engineers for 2010.
"Both drivers have had discussions about who will be the most suitable engineers, which worked out very nicely – Nico will have Jock Clear and Michael will have Andrew Shovlin," explained Brawn.
"It suits their stages of their career, and suits what they need to achieve. We've discussed it and been completely open."
The team said it is yet to finalise a contract with a third driver, but it is hoping to make an announcement next week.