| | |
| --- | --- |
| Capirossi: Rules hampering Suzuki | |
| | |
| --- | --- |
| By Michele Lostia and Matt Beer | Thursday, January 21st 2010, 09:57 GMT |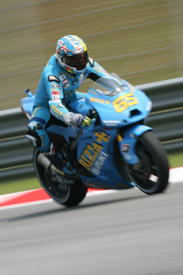 Suzuki's chances of catching up with the other MotoGP manufacturers are being severely hamstrung by the current regulations - according to veteran rider Loris Capirossi.
The Italian believes Suzuki has no chance of catching Yamaha, Ducati and Honda due to the restrictions on mileage and engine use that have been introduced to cut costs over the past year.
"You can't test with the race riders, and the final straw is the absurd rule of six engines per season," Capirossi told Motosprint. "How can you develop a new engine, or something else new, if you have to comply to such a rule?
"We've had massive reliability problems already in the second half of 2009. So how can you develop an engine if it's even sealed now? This is limiting for us.
"They are working like crazy in Japan, at Sepang we'll have a prototype with many things, but we'll have only six days of testing in order to select the right material.
"If by Qatar, in mid-March, we haven't been able to make this selection, then that means we'll have to keep, for the entire season, an unsorted bike that hasn't been developed, and this is neither nice nor fair. In fact, it makes no sense.
"Nobuatso Aoki tests once a week, but not in the right conditions. Suzuki have their own private track next to the factory, used especially for road production, it's very quick and it has impressive curves, but it's all enclosed within a wall with no run-off areas, so it's incredible dangerous for a MotoGP bike. That's not the ideal circuit to develop it, while Suzuka or Motegi would probably cost 10,000 euros per hour!
"In any case, to develop the bikes you need the team's riders, the ones that race, because only they take it to the limit. If you lap three seconds slower you find out that some parts, which seemed to work in testing, won't work in the race because you put stress on them under greatly different conditions.
"Once again, I blame the rule book, because it's so wrong. The limits on sessions and engines are ruining this series badly."
Capirossi does not believe the rules are achieving their aim of cutting costs either.
"It's true, the manufacturers wanted it, but they were wrong!" he said. "Sometimes you really can't figure out what they want. This mess comes from the need to save money, but if you look carefully, you don't save much. For example, why do customer bikes cost even more than they used to?"
But despite his criticism of the regulations, Capirossi also acknowledged that Suzuki needed to manage its racing programme better.
"At the beginning, with the first 800cc, they had a good bike," he said. "The problem is that it's still the same bike!
"They have never done a proper evolution of the engine. They never come up with truly crucial or revolutionary ideas. On top of that, they bring new parts only if they are certain they won't break, and this slows down development. Perhaps we could improve with new parts, but they don't bring them.
"It's a matter of mentality, but they are changing. Problem is, you need time. Until two years ago they had a project leader who came from the road production: he wasn't the right person for a MotoGP race department. Now there are new chiefs, but you need patience to see some real results.
"Anyway, I'm satisfied with them. We haven't yet managed to build a competitive bike, that's true, but there are some fantastic people in the company."